L.A. Nature Fest (Postponed)
This program has been postponed. Please see below for more information.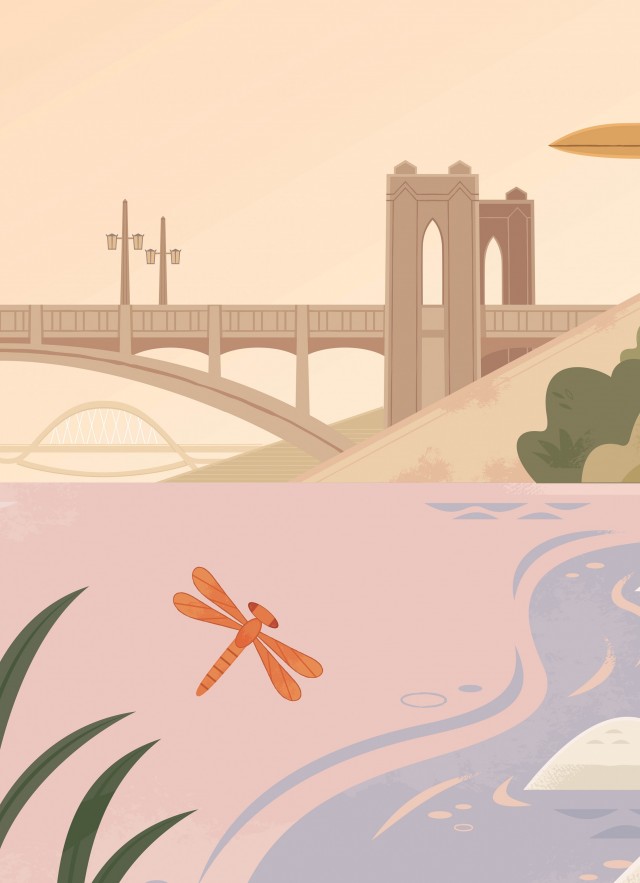 In light of predicted rain showers in Los Angeles for Saturday and Sunday, March 14 and 15, and the inability to safely move all the hands-on activities into the Museum, we have postponed our annual indoor-outdoor Nature Fest at NHM until a later date. Check back here or join our e-mail list for the updated date of this festival once we have it confirmed. 
---
L.A. Nature Fest is a two-day festival that celebrates L.A.'s wild side! 
There's a surprising amount of nature in Los Angeles, and the more you know how to look for it, the more you'll see. You'll be blown away by the plants, animals, and the people devoted to protecting and studying them.
L.A. Nature Fest unfolds in our very own Nature Gardens, the outdoor space where museum scientists do real research and educators share nature's coolest stories.
festival highlights include
 
Meet live animals such as falcons, owls, rats, and reptiles
Raptor flight demonstrations
Over 35 exhibitor booths with local organizations
Talk face to face with scientists and nature experts who are excited to answer your questions
Free tree giveaways from the Tree People 
Learn about "The Science of Slime" with Nickelodeon and NHMLA museum scientists
Enter Nickelodeon's Virtual Slime Booth
Nature inspired art activities with Boundless Brilliance and Self Help Graphics
Share your story #LANatureFest
Programming
9 am: Bird Walk [Top of bridge, North Entrance] – Discover and learn about the birds that call Expo Park their home with NHM's very own Kimball Garrett
10 am: Rat Chat [Nature Lab, Level G] – Watch our animal keepers train and feed our Norway rats at the "Rat Towers"
11 am, 2pm: Nature Gardens Biodiversity Survey [Meet at Rotunda Steps] – Join an educator to explore what critters call the Nature Gardens their home
11 am–3 pm: BioSCAN [Nature Lab, Level G] – Chat with volunteers sorting insect material for the Museum's BioSCAN project
12 pm, 2 pm: Flight Demos [Nature Gardens, across from Cafe] – Watch a live bird fly through the sky! 
Performance Stage - Level G, Otis Booth Pavilion 
  
11 am: The Earth in Her Hands Panel: Hear the amazing stories of women working in the world of plants. (Moderated by Richard Hayden, featuring Carol Bornstein, Lauri Kranz, and Mia Lehrer)
Carol Bornstein is one of Southern California's most highly respected native plant specialists. Throughout her career, she has championed the landscape value of California's native plants and the benefits of designing gardens in harmony with nature. 

 
Lauri Kranz is the owner and founder of Edible Gardens LA where she creates lush, edible landscapes and vegetable gardens for chefs, restaurants, museums, schools. Lauri and her gardens have been featured in magazines including, Martha Stewart Living, Marie Claire and has been featured on NBC's Today Show. 
 
Mia Lehrer, has led the design and implementation of ambitious public and private projects, including the Hollywood Park Racetrack redevelopment and its new LA NFL Stadium, the LA County Natural History Museum Gardens, Vista Hermosa Natural Park, and many Los Angeles River-related projects. 
 
Richard Hayden (panel moderator) has rejoined NHM to project manage the new master plan design for La Brea Tar Pits Museum and surrounding landscape. He will be coordinating architects, museum staff, trustees, peer institutions and county and community stakeholders to reimagine this world-class institution and unique research site.
1 pm: Masanga Marimba Musical Performance
Masanga Marimba plays traditional and popular music from Africa and Latin America. The instruments used in this ensemble consist of 7 Zimbabwean marimbas of various sizes along with vocals, drums, percussion, saxophone and trumpet.
3 pm:  Snake Feeding! Come watch one of our (live) snakes have a (dead) snack!
Nature Nook Presentations - Nature Gardens (across from Pond)
 
Seating is available on a first-come, first-served basis.
10:30 am: Nature Photography with Las Fotos Project – Grab your phones and learn to capture the beauty of nature with members from Las Fotos Project
11:30 am: Live Animal Presentation – Come visit with one of your wild neighbors!
12:30 pm: Making Nature Accessible – Hear the inspiring stories of different L.A. based organizations that have helped support their communities by making nature accessible
1:30 pm: Planting for Birds – Our Nature Gardens experts share the best plants to support birds in your garden
2:30 pm: Making Nature Accessible – Hear the inspiring stories of different L.A. based organizations that have helped support their communities by making nature accessible [Program will be in Spanish]
Keep an eye out for...
 
"Keeper chats" hosted by our Live Animal Program Team. Meet a variety of animals and hear stories about how we care for them. These will be offered throughout the day in the Nature Lab and Discovery Center.
Keep a lookout for NHM's bug character pop-up appearances in the gardens
Enter Nickelodeon's Virtual Slime Booth
Tree giveaway at the Tree People booth (exhibitor #4)
Scavenger Hunts: Explore the Pollinator Meadow and see how many animals you can find among the wildflowers! [while supplies last]
Seed Balls: Create a seed ball of California native wildflowers for your garden [while supplies last]
Block Printing Activity with Self Help Graphics [10am-2pm]: Create block printed cards with stamp designs representing California native plants
Coloring & Leaf Ornament Activity with Boundless Brilliance: Create your own leaf ornament and complete a nature inspired coloring activity [while supplies last]
L.A. River Rover: Visit the Friends of the L.A. River (FOLAR) mobile education center
Taxidermy Display: Learn about the art of taxidermy with NHM's very own Tim Bovard
A big thanks to our sponsors