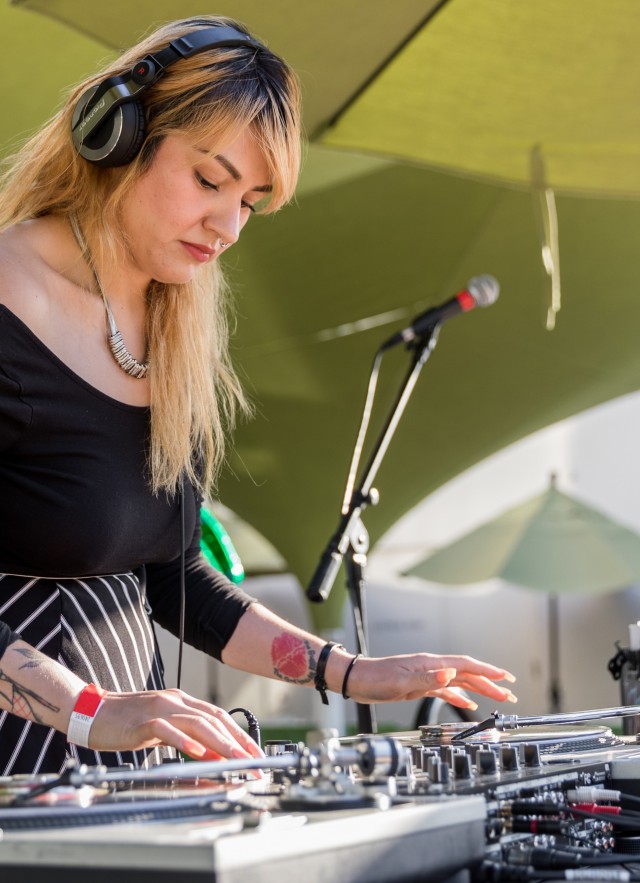 NHM EXTENDED HOURS 
July 9, 16, 23, 30, August 6   |  Fridays  |  5 pm–8 pm
This summer, cool down as the sun sets at NHM. Extended hours from 5 pm to 8 pm every Friday, from July 9th to August 6th.  
featuring:
DJ schedule
Chulita Vinyl Club is made up of women, gender-non-conforming, non-binary, LGBTQ+ and self-identifying people of color. CVC launched in 2014, with the context of providing a safe space for empowerment, togetherness and to utilize music and vinyl as a form of resistance against the erasure of culture. 
Ladies of Sound is the official women's division of the Beat Junkie Institute of Sound. Their platform is made to support women in the DJ and music community. LOS educates, trains, and recognizes women all across the spectrum. From veterans who have been in the game, to those who just need that community to help get themselves started; their goals are to create opportunities in all facets of the industry, and ultimately inspire the future generation of women in music.
THISXMOMENT creatively curates her DJ sets with an intention to tell a story.  Tastefully moving thru a diverse music library, her vibe effectively mashes up sounds and genres that take you on a journey with colorful twists and turns, creating space and moments for you to feel and connect with the music in an artful way.
 
Social Isa sets the mood by expressing crazy-sexy-cool vibes for crowds ready to groove and have a good time. Big on empowering women in music, in business and in life, she is an investment property maven by trade, mistress of the turntables by passion and podcaster in between
DJ Phatrick is a Chinese American DJ & producer who finds inspiration in Black Music & Black Liberation Movements. When not being a full time dad, he's on stage with Filipino American rapper Bambu, or rocking dance floors at Motown on Mondays, or maybe nursing your emotions as co-host of Heartbreak Radio.
Founded by Jéli Daniel, Red Light Vinyl is an LA based Lady DJ collective of vinyl enthusiasts, and selectors, their mission is to bring good music to the people!, Uplifting consciousness through sound! Red Light Vinyl has played local music festivals, art gallery events, non-profit organizations and currently curating DJ sets broadcasting worldwide!
Extended hours are made possible in part by a grant from the City of Los Angeles Department of Cultural Affairs.