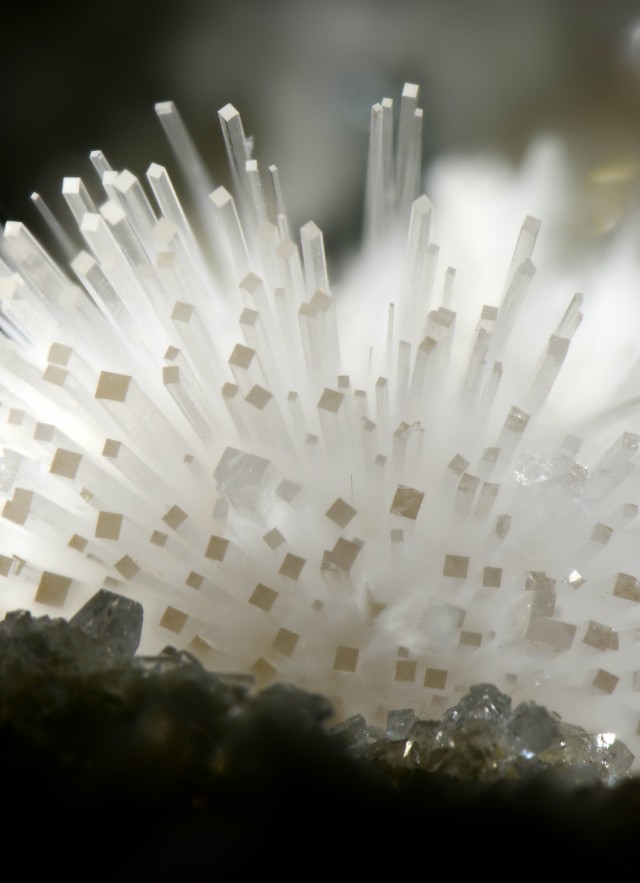 The Mineral Sciences collections include minerals, rocks, meteorites, gems, and related synthetic materials. The mineral collection is world-wide in scope and boasts particular strengths in minerals from California, native gold, and gem crystals. The collections are being actively augmented principally through purchases and donations.
There are approximately 150,000 specimens, including more than 140,000 minerals, nearly 100,000 of which are micromounts, 3,000 rocks, 3,000 gems, and 50 meteorites. Approximately half of all known mineral species are represented in the collections.
research
The collection supports research in a variety of areas in materials science, climate science, pharmaceuticals, environmental remediation, petroleum science, ore deposits, exobiology, bio-mineralogy, and general mineralogical research.  
Our research laboratory has been on public display since 2017.  All experimental stations, collections, and equipment are on view and scientific content is communicated to the visitor by signage, gallery interpreter engagement, video, and social media to our more than 800,000 visitors a year.
The lab includes the following analytical equipment:
Raman Microscopy
X-ray Fluorescence Microscope 
X-ray Diffraction - Single Crystal 
X-ray Diffraction - Powder 
Search our Collections
Search the collection by name, variety, or locality. 
Contact 
Aaron Celestian
Curator
acelestian@nhm.org
Alyssa Morgan
Collections Manager
amorgan@nhm.org
Anthony Kampf
Curator Emeritus
akampf@nhm.org
For information on how to join or renew your membership with the Gem and Mineral Council, contact us at 213.763.3326 or by e-mailing Dr. Aaron Celestian, Curator of Mineral Sciences, at acelestian@nhm.org or Alyssa Morgan, Mineral Sciences Collections Manager, at amorgan@nhm.org.
Follow us on Instagram @nhmla_gems.