June First Fridays
Add to calendar
2019-06-07 17:00:00
2019-06-07 17:00:00
Event - First Fridays - June 2019 - NHM
Natural History Museum
nhmla
webmaster@nhm.org
America/Los_Angeles
public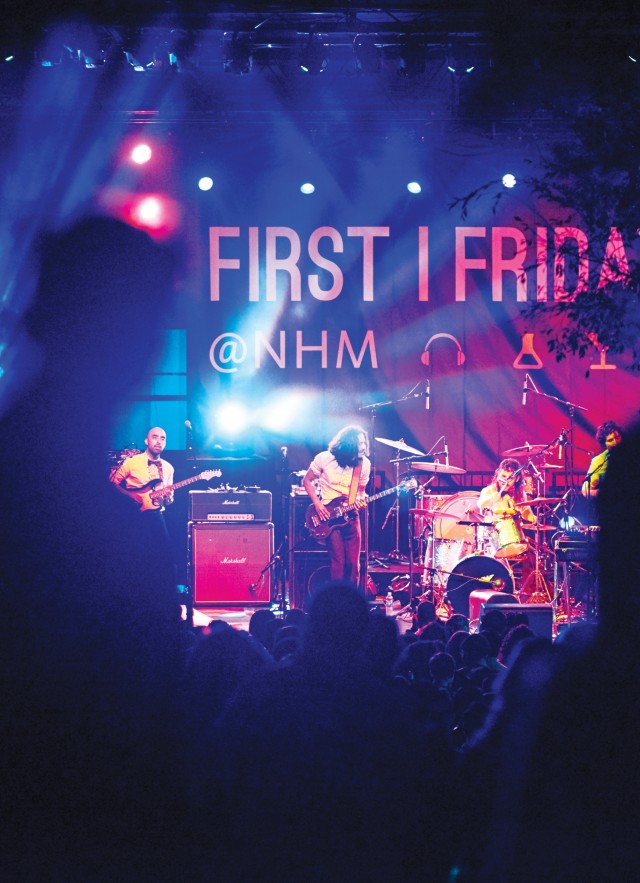 Our June First Fridays have an awesome lineup of bands, DJs, discussions, food trucks, delicious cocktails, and more. Get ready to experience the museum after hours.
This year's theme is "Forces of Nature." We'll find facts and bust myths about our four horsemen of the Golden State apocalypse: fire, drought, flood, and earthquakes. In June, we take a look at California's history with earthquakes. 
See our full lineup below and get your tickets today. Limited online availability each month. Become a Member and get the entire First Fridays series for free.
Check out what First Fridays has to offer! 
Conversations: 5:30 pm and 7:30 pm
Secrets from the Vaults
Join science correspondent and "Ologies" podcast host, Alie Ward, as she asks museum research specialists about their collections and discovers details hidden in plain sight. Each month features a different expert to uncover the big mysteries, strange oddities, and untold stories from NHMLAC.
Can't make it out to the event? Catch a live stream of the 5:30 pm presentation via NHMLAC on Facebook.
Discussion: 6:30 pm
SHAKE IT OFF: a conversation between dr. lucy jones and Patt Morrison
Seismology can chart them, even sometimes predict them, but it can't stop them. The more we know about the quivering, roiling Earth underfoot in California and the West—earthquake faults, calderas, volcanoes—the more tools we have to brace ourselves for the certainty of the Big One or Big Ones.
Dr. Lucy Jones is founder and chief scientist of the Dr. Lucy Jones Center for Science and Society, which aims to foster the understanding and application of scientific information to create more resilient communities, and a research associate at the Seismological Laboratory of Caltech. With a BA in Chinese language and literature from Brown University and a PhD in seismology from MIT, Dr. Jones furthers resilience to natural hazards through scientific research and collaborations with policy makers, including 33 years with the US Geological Survey, and writing more than 100 published papers on statistical seismology and integrated disaster scenarios.
MODERATOR: Patt Morrison
Patt Morrison is a Los Angeles writer and newspaper columnist who has a share of two Pulitzer Prizes. She has won six Emmys and eleven Golden Mike awards for her work hosting public television and radio programs. She also hosted the nationally syndicated television program "The Book Show With Patt Morrison," and her seminal nonfiction book Rio L.A., Tales From the Los Angeles River was a best-seller. Her writing appears in both fiction and nonfiction anthologies. And Pink's, the legendary Hollywood hot dog stand, named its vegetarian hot dog "The Patt Morrison Baja Veggie Dog" in her honor.
DJs: 5–11 pm 
KCRW RESIDENT DJ: Novena Carmel 
Main Stage: 6 - 7:30 pm / 8:15 - 8:45 pm / 9:30 - 10 pm
With music royalty in her blood, Novena Carmel is an eclectic and energetic Bay Area­­–born, L.A.-based DJ, singer, host, and curator known to lure a crowd and turn them out. As a DJ, her love for music shines through in her wide range of selection, big smile, and dance moves. In addition to her residencies throughout L.A., Novena has recently played at Amoeba Records, Dublab radio, and as a resident at the Stones Throw summer pool party. If you find yourself in a room with Novena, you're in the right place.
DJ MS. JCK 
DJ Lounge: 5 - 8:30 pm
Jack Davey is an L.A. based singer/songwriter + producer + dj who, in addition to recording 8 independent projects (J*Davey) and touring with legendary acts (Prince, The Roots, Erykah Badu), has also penned releases for R&B sensation Miguel, Danity Kane, and Christian Rich. Following up recent features on A Tribe Called Quests' comeback record and a dance-y electro-funk jam with Bay Area producer, Trackademicks, Jack Davey recently premiered her 90s Jazz-Hop inspired single and video, UNDONE, with Vogue magazine and has launched a new monthly DJ residency in L.A. called MILF (My Inspiring Lady Friends) in addition to spinning countless corporate DJ gigs and club nights throughout the city.
ANTHONY VALADEZ
DJ Lounge: 8 - 11 pm
Anthony Valadez can be heard on weekends on KCRW. His show has been championed by the likes of Ty Dolla $ign, Julian Casablancas, Childish Gambino, and Jeff Staple for his keen ear on music discovery. He was voted Best Club DJ by L.A. Weekly's Reader Poll in 2016. He loves his dog.

Performances: 7:30 - 11 pm
CLAUDE FONTAINE
Main Stage: 7:30 - 8:15 pm
Claude Fontaine is an American girl with a French name who never felt like she fit in anywhere she happened to call home, and one particular year she was awash in a grey London fog that matched the fog and grey in her own too-recently broken heart. While living right off Portobello Road, she stumbled into the record store down the street. And in a flash of luck—or fate—that particular record store turned out to be Honest Jon's, a long-lived spot for records collected from the furthest edges of the world. She'd never heard those old Studio One and Trojan and Treasure Isle reggae and rocksteady and dub records before—the same records that got the Clash covering "Police And Thieves," and the Slits sharing a bill with Steel Pulse. And she'd never heard bossa nova and tropicalia and Brazil's incandescent música popular brasileira, either. But instantly, she understood—it was exactly and perfectly everything she didn't know she needed: "I wandered in one day and from the first moment I was under a spell," she says. "I was transfixed. I'd go in there daily and have them play me every record in that store probably to the point of driving them completely mad! But I had fallen in love …"
And because she loved those records so much, she decided to make a record of her own—an album singing her own love songs (with Jane Birkin-style ye-ye elan) that was itself a love song to classic reggae and Brazilian music, and an album honoring that feeling of finding a home away from home. Ferociously inspired, she demo-ed a set of songs about heartbreak and loneliness, and drafted a wish list of musicians she'd hope would help out. At the top were guitarist Tony Chin, whose playing with Althea and Donna, King Tubby, Dennis Brown and so many more very arguably defined a gigantic part of the classic reggae sound, and Airto Moreira, the Brazilian drummer whose work both solo and in collaboration—with Miles Davis, Astrud Gilberto, Chick Corea, Annette Peacock—make him an actual living legend. "A pipe dream" to chase them, she says, but still she tried.
But after diligent detective work—long chains of emails and voicemails, tracing between L.A. industry veterans and globetrotting photographers and the label that would put out her finished record, though she didn't know that yet—she found them. Then she sent them her demos. Then they said yes. And when she finally met them that day in Chet Baker's old studio ("A time warp," she adds dreamily) or at King Size in northeast L.A. and she heard her songs the way she'd been hearing them in her head for so long, she was was overcome with emotion. "It was surreal and magical. I cried. To watch those songs come to life... it's why we do what we do".
She finished her album in two potent sessions with Chin, Moreira and a murderer's row of their connections—bassist Ronnie McQueen of Steel Pulse and Ziggy Marley drummer Rock Deadrick, Now Again Records guitarist Fabiano Do Nascimento, Sergio Mendes percussionist Gibi Dos Santos and Flora Purim bassist Andre De Santanna. (Trust that each of these people have credits on albums like you wouldn't believe.) Side A is the reggae, five songs about love gone wrong that sound like they came out of Jamaica in the early 70s—yes, "Love Street" sounds happy, but "it's really just a fantasy", says Claude. And side B wasn't specifically designed to be the bossa or Brazilian side, but that's how it worked out, closing with the spare and even haunting "Last Goodbye," a song about the heartbreak of what could have been. All together, it's a valentine to this special music that called out to her from the other side of the planet: "I hope this record will transport people," she says. "I wanted it to feel like those lost records, like it got lost in the dusty bottom bin of some world music store in London because that's how I felt when I walked in to that record store. I want it to be its own world."
GAVIN TUREK
Main Stage: 8:45 - 9:30 pm
It's impossible not to become infatuated with soulful pop princess Gavin Turek.
The L.A. native is always clad in a hand-made 70s fringe dress (designed herself in every color) and armed with the best dance moves you've ever seen. It's easy to draw comparisons anywhere from Tina Turner to Beyoncé but really, Gavin is her own force to be reckoned with. Performing always came natural: She grew up with a father who played piano and often tagged alongside her mother who toured coffeeshops singing gospel. Growing up in Los Angeles, Gavin obsessively studied two things: music (Donna Summer, Prince, Lauryn Hill, Diana Ross, Michael Jackson, Giorgio Moroder) and all forms of dance. Originally aspiring to be a professional dancer, Gavin spent years training and traveling abroad before eventually returning to singing and songwriting as her main medium of expression; but dance is naturally a vital component for her live show, where even the most apathetic concert goer leaves her shows revitalized and inspired.
Two special artists in particular became champions early on for Gavin. Brainfeeder genius TOKiMONSTA has been a longtime friend and collaborator. In the nascent stages of both of their careers, she asked Gavin to contribute vocals to her productions, which lead to the fan favorite track "Darkest Dim" and a mini-album, You're Invited. Mayer Hawthorne was next, not only inviting Gavin to open his sold out tours but recruiting her as the female counterpart in his retro funk act, Tuxedo with producer Jake Uno.
In 2017, Gavin released her first solo EP Good Look for You via her own label Madame Gold Records. The EP garnered attention and praise from Stereogum, Nylon, Okayplayer, NPR, KCRW, Billboard, Beats 1 and many more. All of which highlighted her songwriting chops and simultaneously retro yet modern take on pop.
In 2018, fresh off an explosive performance of "My Delight" on Conan and an uber-sexy new single "WHITNEY", Gavin continues to display her undeniable star appeal. You may have heard her music stitched into the fabric of Netflix's Dear White People and HBO's High Maintenance or seen her on tour in Japan, UK, China, France, and across the States supporting artists like Hayley Kiyoko or Tuxedo.
Gavin's now on schedule to release her first full-length solo LP in 2019 with production from Passion Pit and Childish Gambino collaborator Chris Hartz and electronic music trailblazer Boys Noize. Be prepared to feel the fantasy and become a lifelong fan of Gavin Turek.
BRASSTRACKS
Main Stage: 10 - 11 pm
After studying together at Manhattan School of Music, Ivan Jackson (trumpet) and Conor Rayne (drums) linked up to form production duo Brasstracks in 2014. Initially a side project allowing them to use their instruments to produce electronic music they were passionate about, a cover of Rihanna's "Four Five Seconds" with Lido cemented them on the SoundCloud producer scene. Since their early beginnings in the SoundCloud space they have dropped an array of critically acclaimed covers and remixes, toured with Lido, Nao, Mr Carmack, Jack Garratt and GRiZ, played iconic venues and festivals such as Denver's Red Rocks and Coachella and featured/produced on songs with GoldLink, Anderson Paak, Lido, and Khalid.
In August 2016 Ivan and Conor produced arguably the biggest hip hop record of the year with Chance the Rapper's "No Problem" featuring Lil Wayne and 2Chainz. This led to a Grammy nomination for Best Rap Song to add to Ivan's nomination for his writing contribution to Anderson Paak's "Am I Wrong." They also released their debut EP, Good Love, and took the EP on the road with their Good Love Fall Tour.
During a heavy summer 2017 festival season playing all over North America, Brasstracks released a slew of new singles and covers culminating in the first edition of their most recent project For Those Who Know Part 1, which was released October 20. Part 1 boasts collaborations with Robert Glasper, the Underachievers, and more. March 2018 saw the guys embark on their first ever headline US tour, playing 19 cities and selling out Los Angeles, San Francisco, Seattle, and NYC's iconic Bowery Ballroom in their hometown show.
To conclude their "For Those Who Know" series Brasstracks released the deluxe version of the project and embarked on a first Asia tour. Now they enter the next chapter with the release of new single "Vibrant" featuring Pell and announcing a 28-date headline North American tour—the Vibrant Tour, kicking off in January 2019.