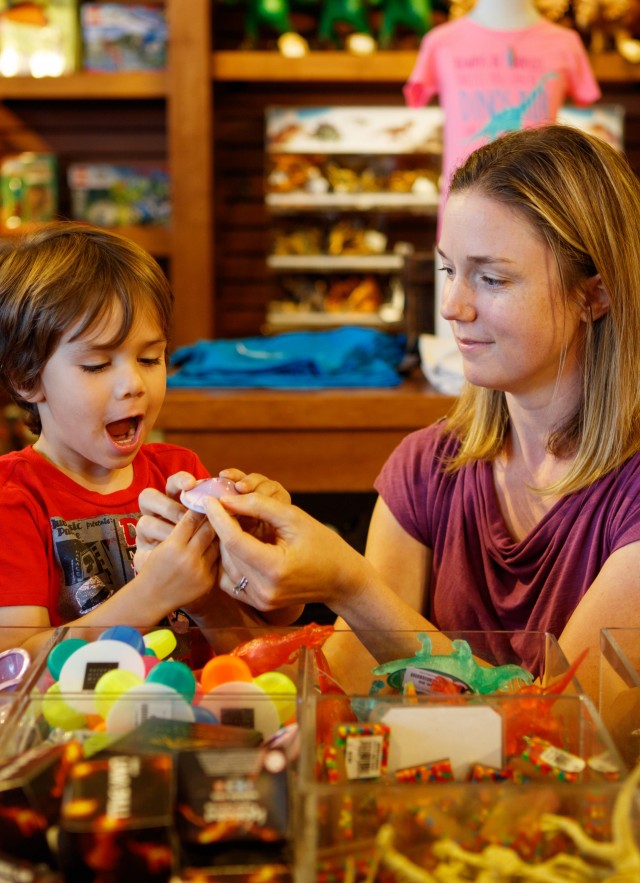 Shopping
At the Museum
Find the perfect souvenir or gift at our NHM Store. From dinosaurs to nature, t-shirts to books to toys, there are so many awesome finds. For specialty items shop in our onsite Dinosaur Store, Gems Store, and Special Exhibition Shop.
Online
Shop for amazing NHM and La Brea Tar Pits items right from your home. Shop online.
Where to Eat
NHM Grill
Enjoy a variety of made-to-order gourmet grilled sandwiches and burgers, fresh salads and wraps, made-from-scratch soups, pizza, kid-friendly favorites, vegetarian, vegan, and gluten-free options, and a large variety of snacks. See menu. 
Bringing Your Own Food?
If you're bringing your own food, we invite you to picnic under the trees on the grass in front of the museum, or on the picnic benches overlooking the Rose Garden adjacent to the museum.
Help Us Preserve Our Collections
We appreciate your help in preserving our collections and the museum. Please finish your purchases in the NHM Grill or if you brought food from home, please enjoy it outside. Food and beverages are not allowed inside any of the museum halls and exhibits.