NHM FIRST FRIDAYS Connected: June
Friday, June 26 at 5 pm
Add to calendar
2020-06-05 17:00:00
2020-06-05 22:00:00
Event - First Fridays Connected - June 2020
Hosted on Zoom & YouTube
nhmla
webmaster@nhm.org
America/Los_Angeles
public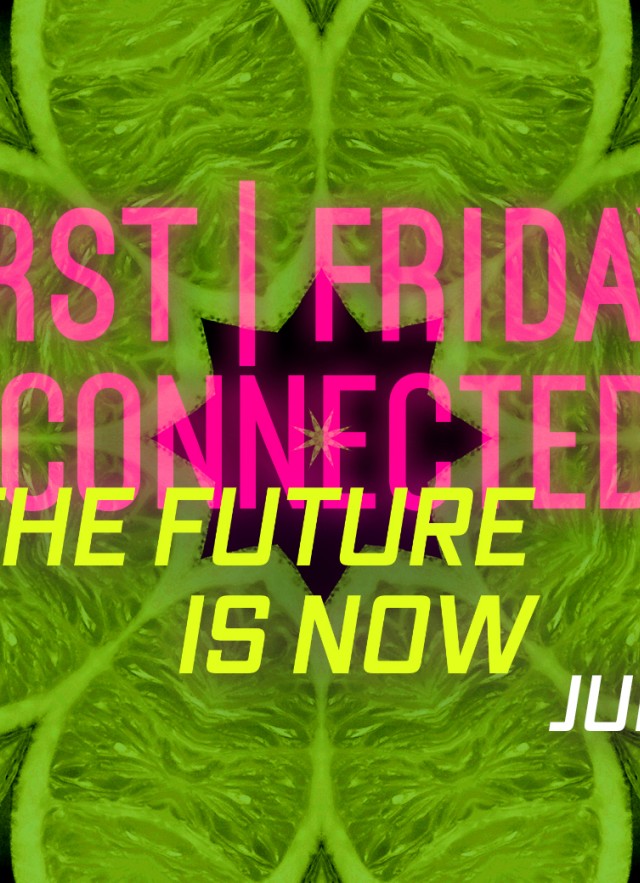 FIRST FRIDAYS Connected | Live Stream
NEW DATE:  June 26, 2020
This season's First Fridays is connecting NHM and L.A. to you live, directly into your home. Dive into timely discussions and rock out to music right in your living room. Grab your own cocktail, put on your best home attire, turn up the volume, and get ready for an amazing Friday.
DISCUSSION AND DINO 101 LIVESTREAM
(6–7:30pm)
DJ LOUNGE WITH KCRW DJ NOVENA CARMEL LIVESTREAM (8–9pm) 
Schedule
5 pm: Secrets From the Vault (Zoom Webinar, Members-only)
6 pm: Discussion - Future of Food (Zoom Webinar)
7 pm: Dino 101 - Interview & Interactive Quiz (Zoom Webinar)
8 pm: DJ Lounge - KCRW DJ Novena Carmel  (YouTube Live)
The Future Is Now
Faster than a Wi-Fi download, more powerful than an electromagnetic field, able to leap centuries in a single algorithm, the tech future is coming fast with the promise of delivering a livable future in spite of the forces arrayed against it.
Secrets from the Vault  |  5 pm  |  Zoom Webinar
Science correspondent and Ologies podcast host Alie Ward joins Kayce Bell, Assistant Curator of Terrestrial Mammals, about their collections and discovers details hidden in plain sight. Each month features a different expert to uncover the big mysteries, strange oddities, and untold stories from NHM.
Discussion  |  6 pm  |  Zoom Webinar
There's only a planet h-for-humans if there's a planet-b-for-bees, a creature vital to earth's prospering. And b-for-breakthroughs in what and how we eat. Lab-grown meat and leather, aeroponic produce, more yield from less arable land, climate change-adapted crops – what coming loaves-and-fishes scientific triumphs will feed more of us, more responsibly?
Each discussion forum will be moderated by Patt Morrison, L.A. Times journalist, author and Emmy-winning television and radio host.
Dr.  Ellen Jorgensen is cofounder and Chief Science Officer at Aanika, a biotech startup that safeguards supply chains and promotes sustainable practices by using microbes to track and trace food and other products.  In 2017, Fast Company magazine named her one of their Most Creative Leaders in Business. She holds a Ph.D. in Cell & Molecular Biology from New York University, spent over 30 years in the biotechnology industry, and is passionate about science literacy. Her TED talks, "Biohacking: You Can Do It Too" and "What You Need To Know About CRISPR" have each had over a million views.
Caroline Kolta is a Project Manager at the XPRIZE Foundation working on designing incentivized competitions to leverage innovation and technology for international development and social impact. She also supports the Foundation's research to chart future roadmaps for food systems. She holds an MA in Sustainable International Development, with a focus on Conflict Resolution from the Heller School for Social Policy and Management at Brandeis University and a Bachelor of Political Science from Cairo University.
MODERATOR: PATT MORRISON
Patt Morrison is a Los Angeles writer and newspaper columnist who has a share of two Pulitzer Prizes. She has won six Emmys and eleven Golden Mike awards for her work hosting public television and radio programs. She also hosted the nationally syndicated television program "The Book Show with Patt Morrison," and her seminal nonfiction book "Rio LA, Tales from the Los Angeles River" was a bestseller. Her writing appears in fiction and nonfiction anthologies. And Pink's, the legendary Hollywood hotdog stand, named its vegetarian hotdog "The Patt Morrison Baja Veggie Dog" in her honor.
Dino 101  |  7 pm  |  Zoom Webinar
Interview and interactive quiz game hosted by Science Communicator, Dustin Growick, and featuring Alyssa Bell, Ph.D. of the Dinosaur Institute.
DJ Lounge  |  8 pm  |  YouTube Live
With music royalty in her blood, Novena Carmel is an eclectic and energetic Bay Area born, LA-based DJ, singer, host, and curator known to lure a crowd and turn the party out. As a DJ, her love for music shines through in her wide range of selection, big smile and dance moves. In addition to L.A residencies, Novena has played at Amoeba Records, Dublab radio and as a resident at the Stones Throw summer pool party.