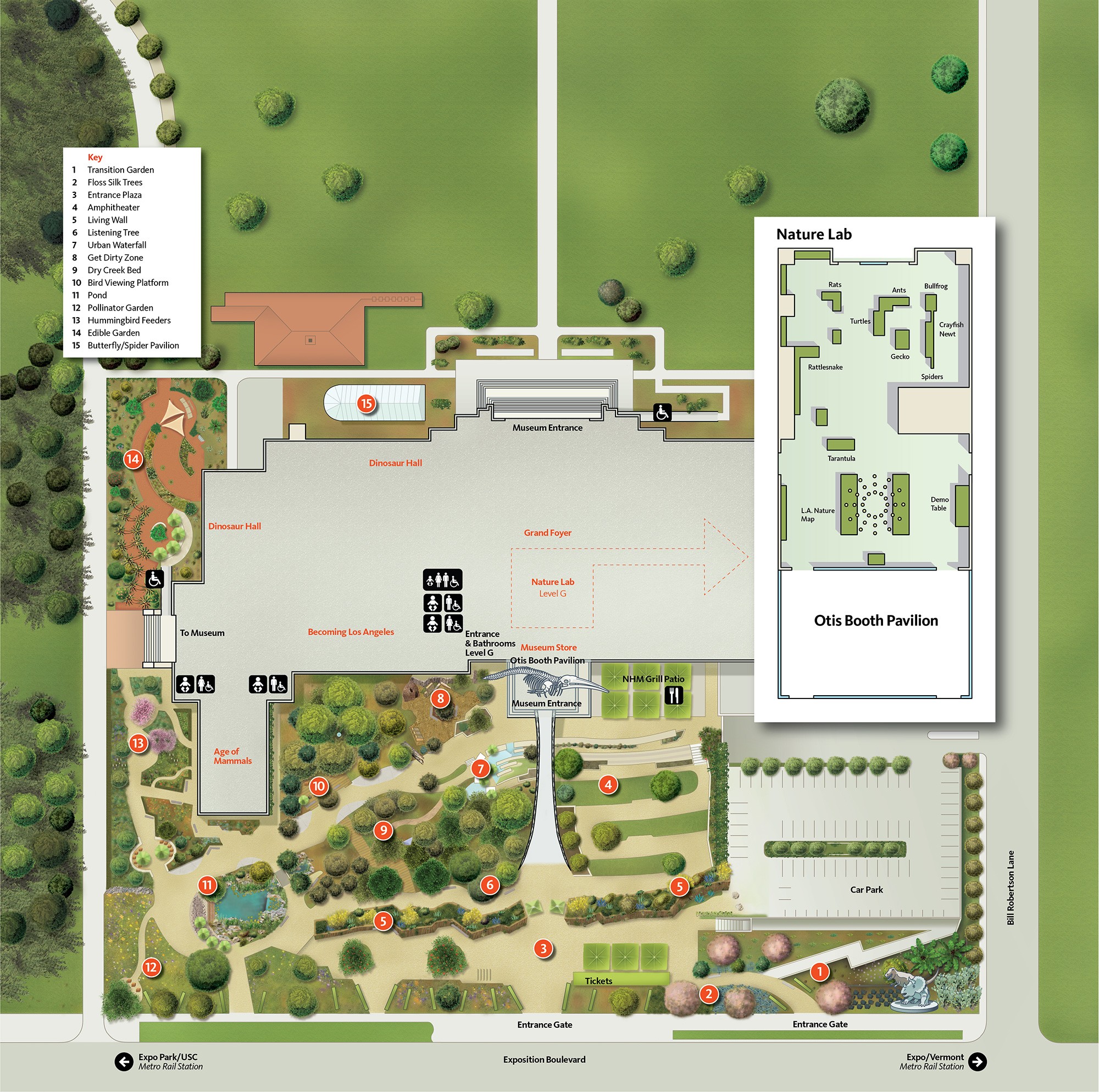 1. Transition Garden: Travel through time along this path to see how people have transformed the Los Angeles landscape by bringing plants from around the world. From the Spanish Mission Era at the bottom of the ramp to the present day at the top, these plants reflect the cultural history of this diverse city.
2. Floss Silk Trees: With their spiny trunks and spectacular pink flowers, these massive South American trees are home to several kinds of parakeets, who crack open the big green pods to dine on the seeds inside. Look and listen for these colorful, noisy birds as you walk by.
3. Tickets: Museum admission and Memberships are available at our ticketing windows. Click here for more information.
4. Entrance Plaza: An unticketed gathering place to explore nature before heading into the museum and the Nature Gardens. Watch for the butterflies, hummingbirds, and other wildlife finding shelter in the hedges and surrounding trees.
5. Amphitheater: Designed for outdoor events and picnicking, this terraced area offers excellent front-row seating for concerts or to watch hummingbirds search for nectar among the flowers. The amphitheater also features water-thrifty alternatives to thirsty lawns.
6. Living Wall: Look closely at this stone wall that hugs the north side of the Nature Gardens. It is a giant raised garden filled with plants that thrive in exposed, dry places. You can find hummingbirds and bees visiting the flowers as well as spiders, snails, and maybe even a lizard hiding in cracks in the rocks.
7. Listening Tree: Believe it or not, you can hear water moving from the roots to the leaves of this coast live oak tree in the Nature Gardens. Ingeniously designed by artist Alex Metcalf, sensors attached to the roots are amplified and connected to speakers inside each of these silver "trumpets".
8. Urban Waterfall: The place to hang out on a warm summer day! Go barefoot on the native lawn, cool off by dipping your toes in the water, or relax under the welcome shade of sycamore trees.
9. Get Dirty Zone: The soil beneath our feet is full of life and you can literally play in the dirt in this popular section of the garden. Come dig in the compost bins to see which creatures turn plants into soil, look for roots in the planter windows, and play hide and seek in a giant willow house. Please note the willow house will be closed for renovations beginning January 3rd.
10. Dry Creek Bed: Lined with local native plants, the dry creek bed is a metaphor for L.A.'s seasonal rivers and streams, which disappear underground or go dry in summer. This area changes dramatically from winter to summer and is a terrific birding spot.
11. Bird Watching Platform: Los Angeles County has more species of birds than any other county in the U.S.! Guided bird walks stop at this platform, where you can spot year-round as well as migrating flyers.
12. Pond: Teeming with wildlife, the Pond is a lovely part of the garden to watch birds, dragonflies and other insects flitting around. Look in the water and see if you can find the tiny Arroyo chub, a native fish once common in the L.A. River. 
13. Hummingbird Feeders: Stop by these hummingbird feeders and you will likely find a plentiful number of hoverers. Allen's hummingbird is the most common visitor, with Anna's coming in second.
14. Edible Garden: Here you will find our lush, ever-changing vegetable, fruit, and herb gardens. Take a gardening class or a Nature Walk and you may get to taste what we're growing!
15. Butterfly and Spider Pavilions: The all-new airier Pavilion on our South Lawn is the venue for our celebrated seasonal exhibits. Get up close to dozens of species of butterflies in the Spring and Summer and marvel at spiders engineering their webs in the Fall.
16. Pollinator Garden: Our garden is a magnet for hummingbirds, bees, butterflies, and other insects. Come to this corner of the Nature Gardens to see pollinators and the native plants they visit for food.