Fisherman Ben's Big Catch
Ben Estes took this photo of the Pacific footballfish, a rarely seen deep-sea creature, which is now in NHM's Ichthyology Collection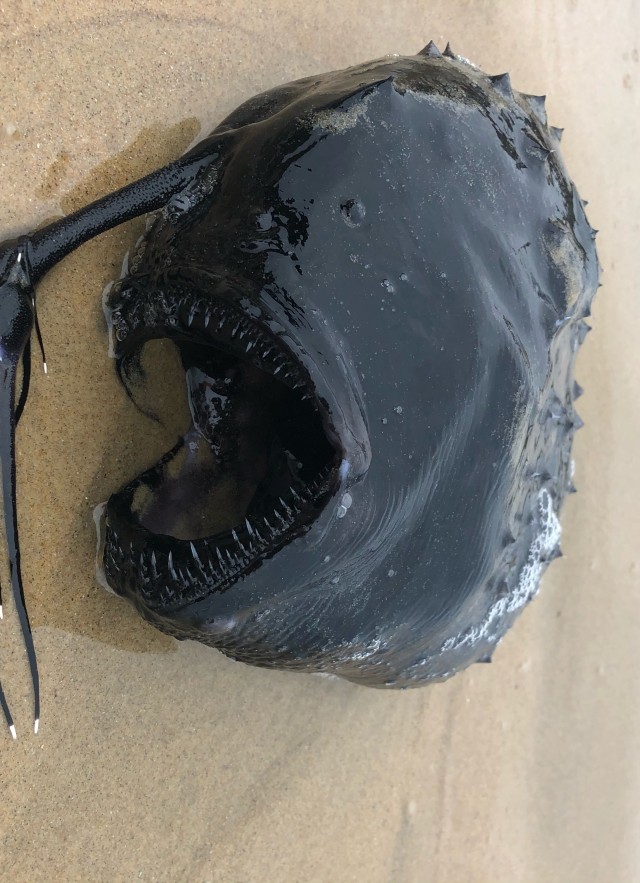 Ben Estes, a 66-year-old fishermen from Santa Clarita has made plenty of nonbiological discoveries—fins and masks, and other detritus left by humans—during his regular break-of-dawn sojourns along Crystal Cove in Newport Beach.
But at approximately 7:30 am on May 8, he stumbled upon the rarest of finds—a Pacific footballfish glistening in the sand. "Astonished" barely scratches the surface of how this veteran angler felt at the sight:  "I love fish and fished all my life. I knew it was special and all my years fishing had never seen anything like it."

He snapped a few photos, went back to his place to get more coffee, and showed the images to his delighted daughter. "She said 'It's the fish from Finding Nemo!' " In one of the animated movie's most memorable scenes, the spiky and toothy fish quickly appears with its a built-in rod (illicium) and lure (esca). It's that esca, filled with bioluminescent bacteria, that helps the stealthy swimmer attract prey in the light-starved ocean depths.
Calling All Fish Lovers
Estes went back to the shore, flagged down a woman in a ranger's uniform who had been picking up trash on the beach, and asked her where he might find a lifeguard on duty. She happened to be an oceanographer, and was very excited about the find. Estes shared the photos with the lifeguard, who then informed his supervisors about what the tide had brought in.
Besides the fact that it washed ashore at all, Estes said that, in his experience, it was unusual to see any deep-water fish so intact. "Fish are like us. If you bring in one from the deep too fast, the eyes pop out. They get the bends like we do. So she must have come in really slowly." 
After not too long, a lifeguard came over with a shovel and delicately picked up the fish along with the underlying sand, he said. It made its way eventually into NHM's Ichthyology Collection and the specimen (Himantolophus sagamius, a type of anglerfish) was featured in a temporary installation, Discovery from the Deep. "I'm not a ham,"  said Estes, "but I know that I did something special, and that's kind of cool."