A Miniature Stone Zoo
NHM recently welcomed back a beautiful menagerie of tiny sculptures from artist Lu Huan Wang.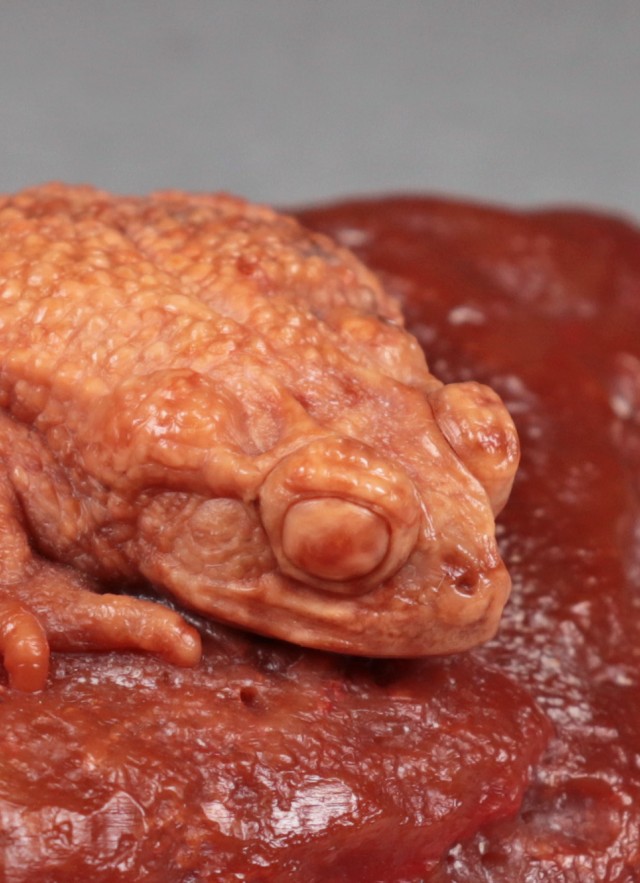 The Museum recently welcomed a new menagerie, a gift from artist Lu Huan Wang. NHM was the first U.S. institution to exhibit his delicate stone carvings, and, out of gratitude, he donated 36 of his best pieces along with his letters, drawings, books, and photographs. Each of his carvings resembles a fossilized creature arising organically from the base of the stone. These aren't the work of nature, however, but of Wang's skilled hand. The colorful animals perched on top may look like they are painted and glued on, but they are actually carved from a single piece of stone. For most of them, Wang used a type of stone called Chinese Balin, a creamy-textured Mongolian treasure found in green, white, yellow, and pink. One of Wang's Carvings, titled the Rat Snake, is made from chicken blood stone, a mix of clay and quartz, with the occasional addition of cinnabar that creates brilliant red color. Wang carefully carved into the rock, exposing the color and using it for extreme visual contrast
LIKE A SCIENTIST
Wang spends countless hours carving from life, by observing the pets he cherishes. He raises reptiles, amphibians, crustaceans, and insects in his home. His subjects—the poison dart frog, chameleon, and Chinese roach, for instance—aren't easy creatures to rear, but for Wang, they are his beloved's. NHM is a natural home for these stunning pieces. They offer a different kind of loving observation of the natural world. "It's a little bit like a scientist observing animals," says NHM's Collections Manager of Anthropology, KT Hajeian, who points out that each artwork has a hidden message displayed at the base. "He raises the animal, carves them, write a poem to them," Hajeian says. "They are beautiful odes to the animal." Wang is also a skilled calligrapher. Each sculpture came in its own beautifully upholstered box, with the title written by hand. One of the reasons he chose the Museum to look after his cherished creatures as opposed to selling them is because, Wang says, "I always believed that what exists in nature has no price." 
ABOUT THE ARTIST
Lu Huan Wang was born in 1948 in Hebei Province, China. After graduating from the Central Academy of Fine Arts in 1969, he became an artist-in-residence at the Palace Museum in Beijing (also known as the Forbidden City) for 16 years before moving to Alameda, California.