The Scoop on Ferndell: Griffith Park's Enchanted "Nature Museum"
At the border of the Hollywood Hills and Los Feliz neighborhoods is an enchanting, tree-shaded half-mile trail of Griffith Park.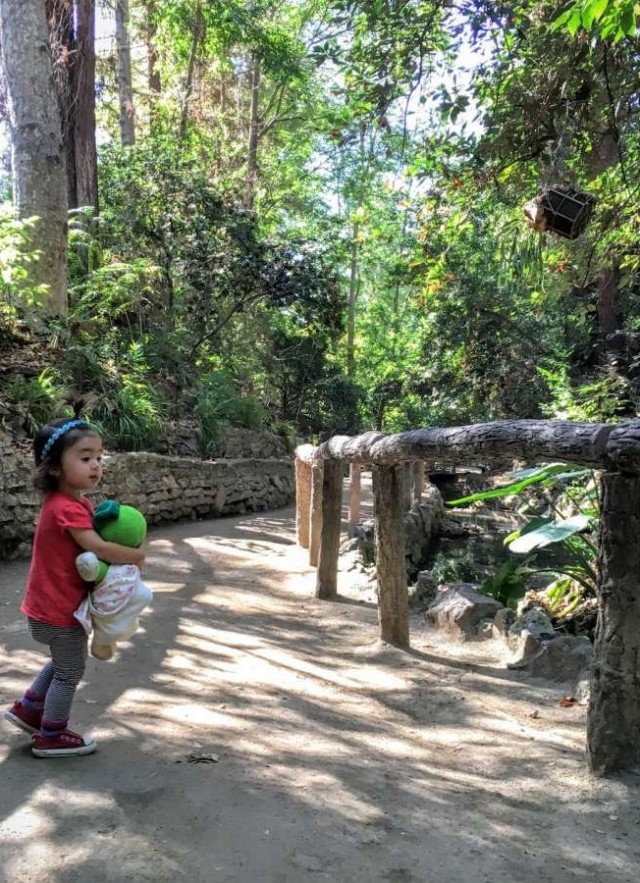 At the border of the Hollywood Hills and Los Feliz neighborhoods is an enchanting, tree-shaded half-mile trail of Griffith Park that meanders along a trickling stream dotted with ponds. This verdant paradox in the city of Los Angeles has an appropriately puzzling name: Ferndell Nature Museum. If you go there looking for "the museum," there isn't one; the collection of plants and animals living there IS the museum.
The history of this Griffith Park canyon and what became "Ferndell" or "Fern Dell" includes the natural spring that feeds the stream, a village site of the native Tongva/Gabrielino people, planting of much of the canyon's greenery in the early 1910s, development of the trails and bridges by the Civilian Conservation Corps in the 1930s, disrepair in the 1980s, and refurbishment and restoration (in stages) up until today. This human history complements Ferndell's unique biological composition: it hosts a diverse flora and fauna that, much like nature elsewhere in developed Los Angeles, is a mosaic of native and introduced species.
The ferns of Ferndell are plentiful and include Adiantum and Athyrium, some of which are California natives, but others are non-native. Button and snail ferns (Tectaria sp.), leatherleaf ferns (Rumohra sp.), and tree ferns (Cyathea cooperi) hail from Africa, South America, and Australia. Elephant-ear plants (Colocasia sp. from East, South, and Southeast Asia) and Philodendron selloum (from South America) shade the trail and provide a tropical ambience. Native coast live oak (Quercus agrifolia), western sycamore (Platanus racemosa), and California bay (Umbellularia californica) round out a geographically disparate forest that also includes a huge Roxburgh fig tree (Ficus auriculata), climbing English ivy (Hedera helix), and California coastal redwoods (Sequoia sempervirens).
Under this diverse canopy are some of Ferndell's most charismatic residents, the animals. In the ponds and along the trail are red-eared slider turtles (Trachemys scripta elegans), crayfish (Procambarus clarkii), mosquito fish (Gambusia affinis), large koi (Cyprinus carpio), goldfish (Carassius auratus), guppies (Poecilia reticulata), Corbicula fluminea (prosperity clam), and Oxychilus sp. snails. While many Angelenos are familiar with these residents of magical Ferndell, not one of the aforementioned animal species is native to Los Angeles or even to California!
The "prosperity clam," Corbicula fluminea, for example, is native to Eastern-Southeastern Asia, Africa, and Australia. In California and elsewhere, this non-native mollusc is also invasive, whereby it easily colonizes and greatly alters freshwater environments changing them profoundly for native species. In Los Angeles County, Corbicula fluminea has been recorded from (among other sites) Lincoln Park Lake, Lake Balboa, Kenneth Hahn State Recreation Area, Frank Bonelli Regional Park, and the Los Angeles River. iNaturalist observations and our collections at the Natural History Museum of Los Angeles County are both essential for documenting the occurrence and spread of this species throughout Los Angeles County. As far as we know, our October 2016 discovery of Corbicula fluminea in Ferndell is the first from this location.
Ferndell also hosts diverse native animals including insects (dragonflies, water striders, bees, butterflies), birds (Cooper's hawk, Nuttall's woodpecker, California towhee, among many others), mammals (gray and fox squirrels, coyote, bobcat, mule deer, raccoon, rabbits, skunk), and reptiles and amphibians (western fence lizard, Pacific tree frog). Discovering the relationships between native and non-native species, especially in the urban environment of Los Angeles, is one of the goals of NHMLA's Urban Nature Research Center.
If you haven't explored Ferndell, I'd recommend it. The trail is a unique and surprising pocket of Los Angeles that is easily accessible, a good entry point for the rest of Griffith Park, and fun for kids. The unusual "Museum" of Ferndell's flora and fauna almost guarantees to "wow" first time (and repeat) visitors with what is a microcosm of the city's biodiversity: a complex mix of species that are established and new, native and foreign.
Special thanks to Ryan Ellingson, Miguel Ordenana, Chris Thacker, Lindsey Groves, iNaturalist contributors (cedric_lee, bbunny, and dlbowls), Cooper Ecological Monitoring, and the Seaver Center for Western History Research at the Natural History Museum of Los Angeles County.