Students Side-by-Side With Scientists
In our labs and collections rooms and out in the field, a rotating stream of exceptional students are part of an engine of discovery.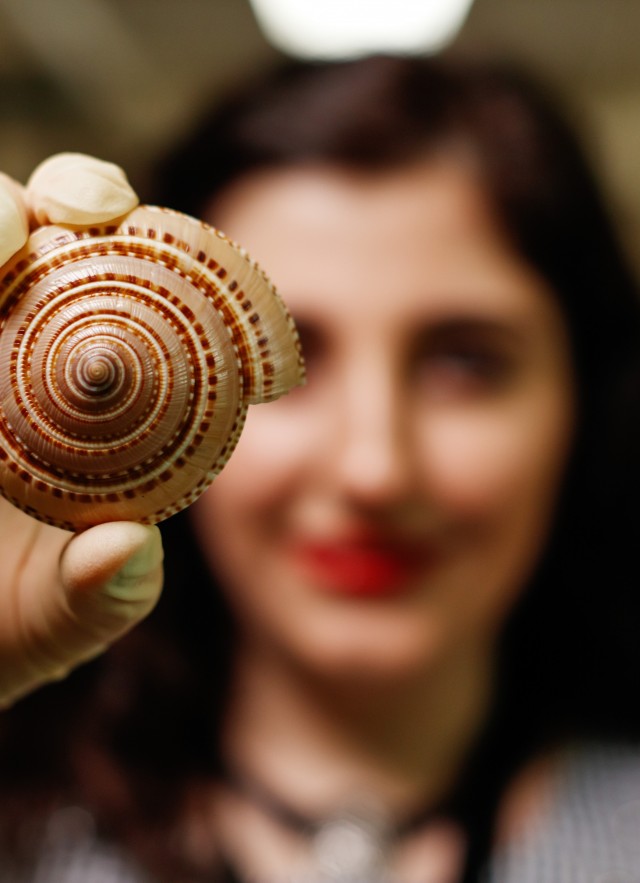 This article was published in September 2019
The scientists at our museums are dedicated to creating new knowledge through academic scholarship and maintaining a huge, world renowned archive of objects, artifacts, and specimens from the natural world and human cultures, from across the globe and from billions of years ago to the present. A rotating stream of exceptional students are part of that engine of discovery. Behind the scenes, in our labs and collections rooms and out in the field, this kind of in-person, on-the-ground mentorship is part of the NHMLAC's commitment to creating a career pipeline for research. We checked in with a recent batch—high school interns to college students—to see what they took away from their time at NHM.
Summer of Dinosaurs
NHM's Dinosaur Institute greeted a small contingent of college interns last Summer from L.A. and around the country. Ben Wolman, an undergraduate at Columbia University who is studying earth science and astronomy, was a very enthusiastic participant. His assignment included going through the collections and unwrapping and labeling fossil bones. "When I was very young, I actually refused to wear shirts that did not have dinosaurs printed loud and clear on the front," he says. "The other day I was working on a bunch of boxes and on top of one was a giant bone— a T. rex tibia. It's incredible. This is fulfilling my first grade dream."
Nancy Granados, a Dinosaur Institute intern who attends Chaffee College in L.A. and commutes three hours to the museum from Lake Arrowhead, is also a proud member of the museum team. "At school, I'm majoring in biology, but I kind of want to study something in the past, biological anthropology. So I thought this was a pretty good opportunity to get hands-on experience in that," she says.
Rachel Mrkaich, an intern who attends Princeton, says the highlight of her Summer internship was the fieldwork, an arduous dig to unearth fossils of dinosaurs from a Utah quarry. "I think there's a level of comradery that comes with being out there," Mrkaich says. "So even though it is hard work, everyone's going through it together."
Cracking the Shell 
While some students were digging out or labeling the bones of giants, others trained their focus on the microscopic. Reni Sahakian and Luiza Barseghyan, two Glendale Community College interns, did a research project with NHM's Assistant Curator of Malacology Dr. Jann Vendetti and applied their knowledge of molecular biology to do something nobody had ever done with land snail shells from this collection—extract their DNA. Being able to genetically analyze DNA from the shell (and compare them to shells in NHM's collection from, say, 50 to 100 years ago) will allow scientists to study decades old snail specimens and even those from extinct or threatened species.
"We came up with a new technique that can be used in the present and in the future. And for the museum to provide us with those opportunities, is very rewarding for us and the community, I think," says Sahakian, who now attends UC Berkeley. "Before this, I thought museums were just displays of dinosaurs, shark skeletons, and turtles, and all of that. But once you go behind the scenes, it is a whole other world."
What on Earth?
Frankly Arreaga, a senior at Ouchi High School in Los Angeles, spent part of his Summer in NHM's Mineral Sciences Department helping Alyssa Morgan, the Mineral Sciences Collections Manager, catalogue cabinets full of minerals collected from sites across the globe. Then Arreaga would add them to an online database that is accessible to other scientists all over the world.
"It's crazy; I look at stuff from so far away. I saw a mineral from Russia and think of the fact that I have a piece of Russia in my hand… or Indonesia, or Africa, rocks from the most foreign places. Each one looks different; they are all unique in their own ways." 
"Honestly, if more kids were exposed to the museum or this type of job, it could really open their eyes. Just being able to have this resource allows us to learn and be empowered to do something big in this world."