Dinosaur Encounters Sensory Friendly Show
The first Saturday of each month at 11:30 am
Add to calendar
2019-06-13 10:30:00
2019-06-13 10:30:00
Event - Dinosaur Encounters - Sensory Friendly
Natural History Museum
nhmla
webmaster@nhm.org
America/Los_Angeles
public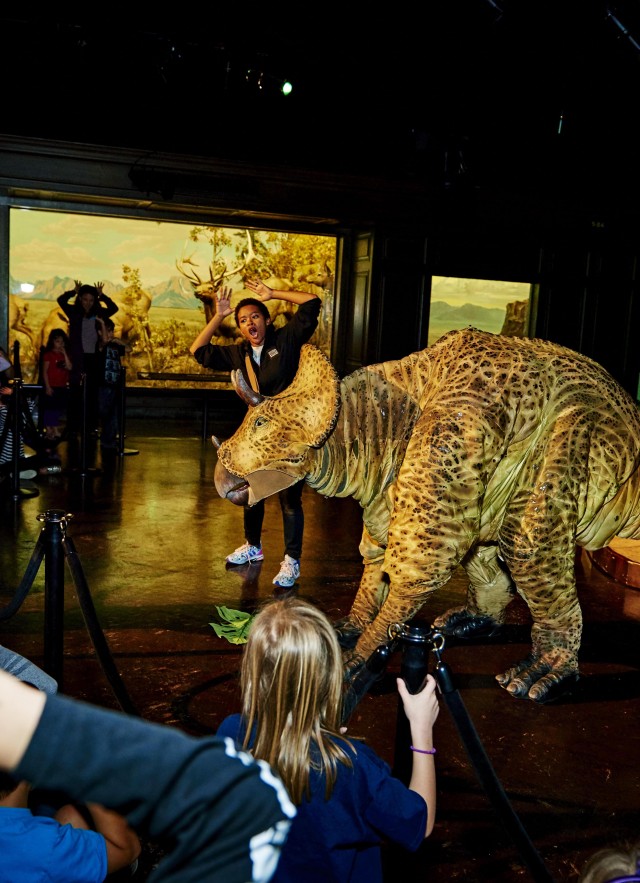 Get close to a living, breathing dinosaur!
Fun, educational, and interactive, Dinosaur Encounters features NHM's life-size dinosaur puppets. Each presenter focuses on a different topic, including theories on dinosaur behavior, extinction, adaptation, and the relationship between birds and dinosaurs. Please note these are not small hand puppets. The museum's puppets are very large, realistic interpretations of wild animals. Please prepare small children accordingly. Dinosaur Encounters is family friendly, and each presentation is about 20 minutes long.
Dinosaur Encounters takes place at the North American Mammal Hall, Level 2. 
---
What is a Sensory Friendly Performance?
Our sensory friendly Dinosaur Encounters performance provides a warm welcome to guests who need a little less stimulating environment and the opportunity to move around during the show.
House light levels will remain brighter and sound levels are turned down. 
You are welcome to come and go as you wish throughout the performance. There is a relaxation zone in the back of the hall if you need a break. 
Everyone is welcome to attend these performances with the understanding that the theater is "shush-free" and there may be a certain amount of sound and movement in the audience. 
---