NHM FIRST FRIDAYS Connected: February
Friday, February 5, 2021 at 6pm
Add to calendar
2021-02-05 18:00:00
2021-02-05 20:00:00
Event - First Fridays Connected - February 2021
Hosted on Zoom & YouTube
nhmla
webmaster@nhm.org
America/Los_Angeles
public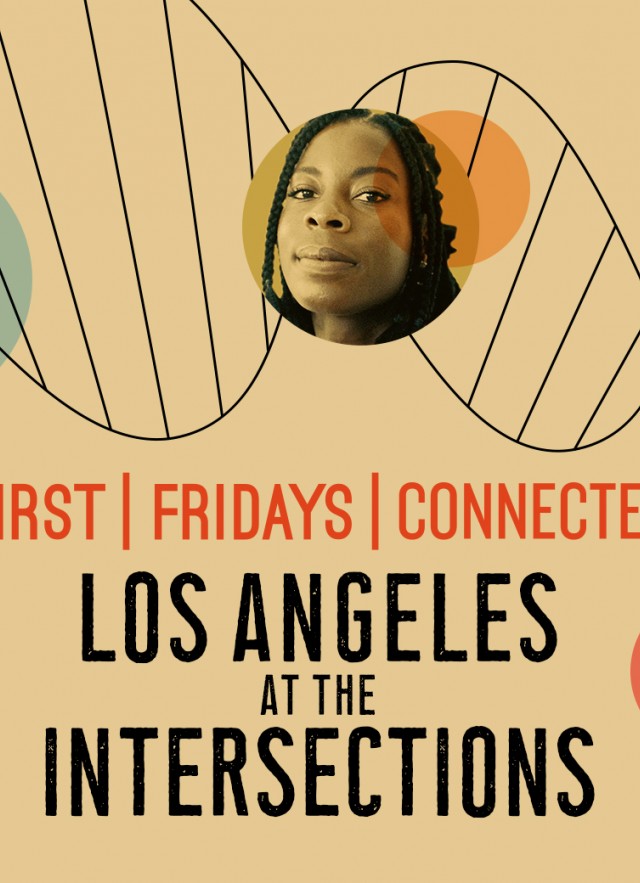 FIRST FRIDAYS Connected 2021  
First Fridays Connected, the virtual series, returns with a new format but still bringing you lively discussions, DJ sets, and live music performances wherever you may be. Hosted and Moderated by neuroscientist and science communicator, Dr. Yewande Pearse (February, March) and biomedical scientist and international advocate for science, technology, engineering, and mathematics (STEM) inclusion, Dr. Knatokie Ford (April, May, June). This season we'll explore Los Angeles at the Intersections.
2021 Season: Los Angeles at the Intersections
Los Angeles at the Intersections, a celebration of science and culture. Neighborhood murals reflecting this city's state of mind, climate activism across all communities, the transforming habitats of humans and animals, and cuisines of the city as L.A.'s cultural signifiers, we'll find that the ties that connect the city together are strongest at the intersections. 
To join the chat, go to the NHM YouTube channel HERE.
February 5: Solace In Science
What are the lessons learned from 2020 and how do we move forward and heal?
Featuring Music Performance by 
Schedule
5:30 pm | Zoom Webinar (Members-only)
Secrets From the Vault 
6pm-8pm | NHM YouTube Channel Live
Intro (6:00pm) > 10 Minute Cocktail (6:05pm) > DJ Lounge (6:15pm) > Discussion (6:45pm) > Music Performance (7:30pm)
Host/Moderator (FEB/MAR): Dr. Yewande Pearse
Dr. Yewande Pearse is a neuroscientist and science communicator. She gained her Ph.D. from the Institute of Psychiatry, Psychology and Neuroscience at King's College London, and is a Postdoctoral Fellow at The Lundquist Institute at Harbor-UCLA. Dr. Pearse hosts a monthly radio show and podcast called Sound Science on Los Angeles's legendary Dublab radio, and is host of Inside Biotech, a podcast from Biotech Connection Los Angeles. As an advocate for science accessibility, Yewande has spoken at various events at the intersection of science and culture, has appeared as a guest expert in several videos for the meditation app Headspace, and written for TEDMED and Massive Science. 
Secrets from the Vault  |  5:30 pm  |  Zoom Webinar (MEMBERS ONLY)
Join NHM's Lindsay Walker, Collections Manager of Invertebrate Paleontology, to learn about the collection she oversees and discover details hidden in plain sight. Each month features a different expert to uncover the big mysteries, strange oddities, and untold stories from NHM.
Introduction | 6:00pm | NHM YouTube Channel Live
10 Minute Cocktail  |  Elle Nucci  |  6:05pm
Elle Nucci, owner of EN Events, will be giving you a 10 minute tutorial on how to make the First Fridays Connected monthly cocktail. Elle will be sharing recipes from Los Angeles based mixologists, including her own recipe in February.  Don't forget to gather your ingredients in advance!  
February Cocktail:  
SANTA MONICA BLVD  
Ingredients: Vodka, Japanese Chilis, Pineapple Juice, Lime Juice, Tajin 
 
DJ Lounge  |  KCRW DJ Novena Carmel  |  6:15pm
If you find yourself in a room with Novena Carmel, you're in the right place. With music royalty in her blood, Novena is an eclectic and energetic Bay Area raised, LA-based DJ, host, musician and curator known to lure a crowd and turn the party out. She spent many years as the entertainment director for beloved local Los Angeles venue, The Virgil, and as a DJ, Novena's love for and knowledge of music is reflected in her vast, open-format music selection. You can now catch Novena weekdays live on-air as the co-host for KCRW's flagship show, Morning Becomes Eclectic. 
Discussion  |  Solace In Science  |  6:45pm
The global pandemic revealed no clearer two truths—socioeconomic disparities in health, employment and education are widespread within our communities, and human connection and culture are vital to our survival. How have disadvantaged communities been disproportionately affected? With a vaccine for COVID-19 coming, how do we ensure that those disparities don't roll over as it rolls out? In moving forward meaningful action, we must heal beyond COVID-19 and do it together. How can scientific research provide solace? Might science offer a new opportunity to mend ongoing health disparities in the future? Science showed us how to stay safe through social distancing, inspiring outdoor and online culture that became vital to maintaining human connection and our mental health.
Panelists:
Ninez A. Ponce, MPP, PhD, is Professor in the UCLA Fielding School of Public Health, Director of the UCLA Center for Health Policy Research, and Principal Investigator for the California Health Interview Survey. Her research contributes to the elimination of racial/ethnic/social disparities in health. In 2019, Dr. Ponce and her team received the AcademyHealth Impact award for their contributions to population health measurement to inform public policies.
Edward C. Jones-López, MD, MSc works at Keck School of Medicine of USC. He is a multicultural, multilingual physician-scientist trained in infectious diseases and epidemiology with over 25 years of experience in translational research, clinical care, and teaching in several countries (US, Mexico, France, Angola, Thailand, and Brazil). He has dedicated his academic career to better understanding and controlling tuberculosis and improving global health. 
Music Performance  |  Vagabon  |  7:30pm
"Break the rules you think you are bound by."  That's the recurring sentiment Lætitia Tamko carried with her through the writing and recording of her second album under the Vagabon moniker. Tamko's self-titled Nonesuch Records debut finds her in a state of creative expansion, leaning fully into some of the experimental instincts she flirted with on the previous album. This time around, she's throwing genre to the wind. Vagabon is a vibrant  culmination of influences, emotional landscapes, and moods; a colorful and masterful statement by an artist and producer stepping into her own.  
EVENT AND MEDIA SPONSORS