DINOSAUR BALL 2023
Thanks to the outstanding leadership of co-chairs Esther Chui-Chao and Robert Procop, the 2023 Dinosaur Ball was a resounding success. Through their dedication and the generosity of the Dinosaur Ball Committee, Board of Trustees, Corporate Sponsors, and longstanding supporters, we raised over $1.4 million in support of NHMLAC's ESTEAM pathway programs (Environment, Science, Technology, Engineering, Arts, and Mathematics): Marine Teen Internship Program, Research and Mentorship of Post-baccalaureates (RaMP), and Outdoor Equity Grants. Click here for more information about the educational initiatives that were highlighted during the evening.
On Saturday, April 29, 2023, more than 450 guests gathered at the Natural History Museum of Los Angeles County (NHM) for the biennial Dinosaur Ball, the first in-person gala since 2019. With a theme of "Deep Time" inspired by NHMLAC research and collections with a nod to the current exhibition L.A. Underwater: The Prehistoric Sea Beneath Us, the 2023 Dinosaur Ball was an immersive experience for all. 
Guests began the evening with an experiential cocktail hour featuring outdoor opportunities in NHM's Nature Gardens to experience the sights and sounds of the earth 100 million years ago and immersive elements indoors that celebrated "Opening Night" at the Museum in 1913 including live music and pop-up dance performances.  Dinner with a menu by Good Gracious was set "under the sea" inspired by L.A. Underwater and featuring shimmering tablescapes. Guests were encouraged to explore the exhibitions and connect with NHMLAC scientists who shared their latest discoveries and future expeditions. The evening was punctuated by remarks from NHMLAC President and Director Dr. Lori Bettison-Varga, Los Angeles County Supervisor Holly J. Mitchell, and television personality Tawny Little. Guests danced the night away and enjoyed sweet and savory treats to commence the festivities. 
Our family of museums is dedicated to inspiring wonder, discovery, and responsibility for our natural and cultural worlds, and we are so grateful for your partnership in this. If you would like to contribute to NHMLAC's ESTEAM pathways, please click the donate button below or email DinoBall@nhm.org.  

Help Inspire the Next Generation: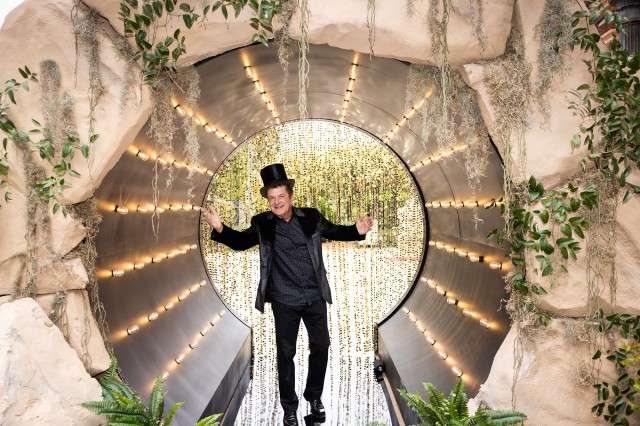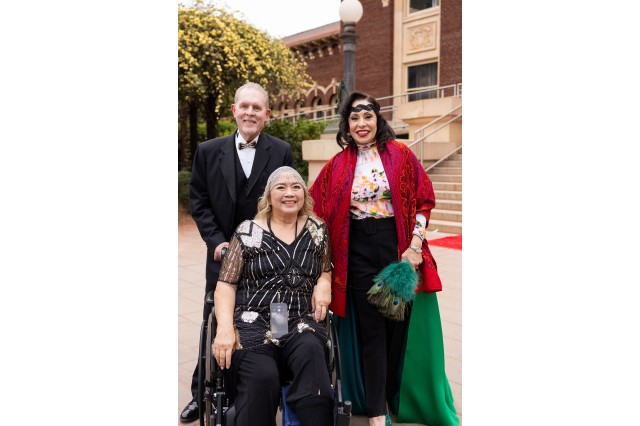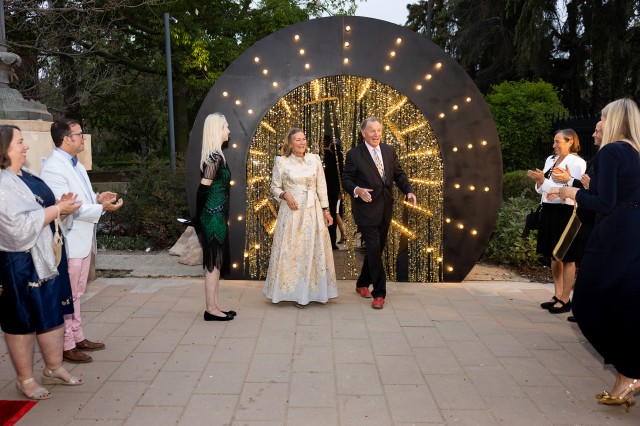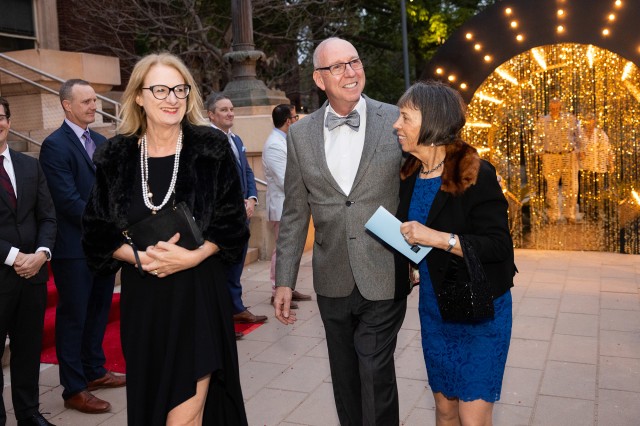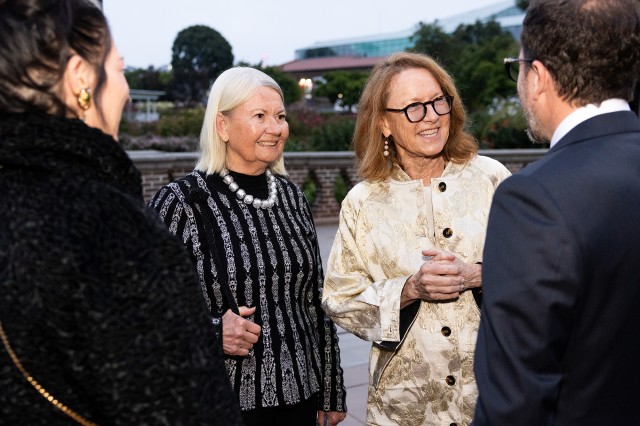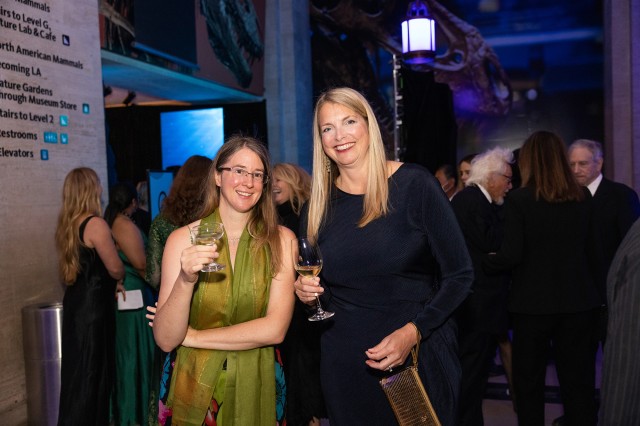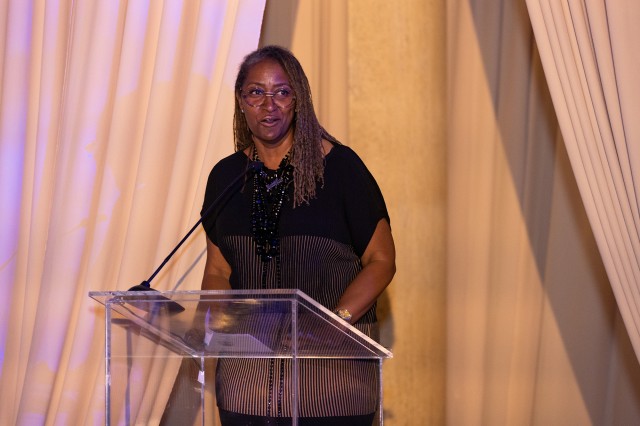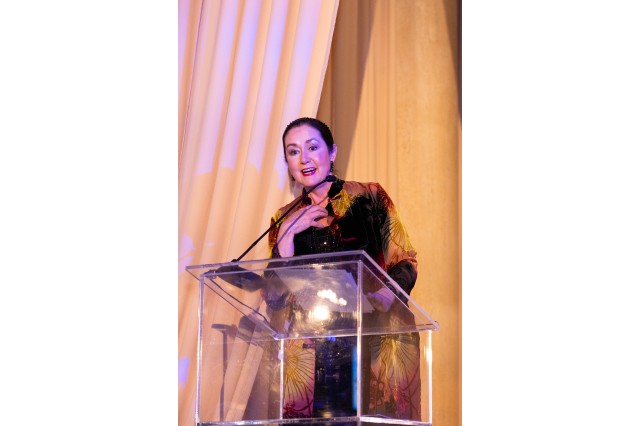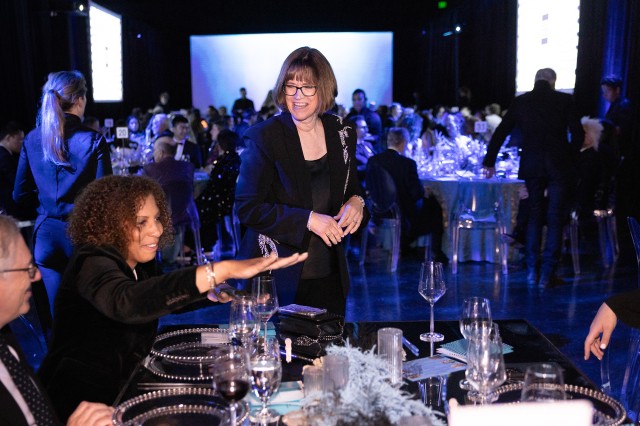 Honoring Our Donors
Co-Chairs 
Esther Chui-Chao*
Robert Procop*
Triassic Sponsor
Joan A. Payden*
Jurassic Sponsor
Esther Chui-Chao / GIANT PANDA MANAGEMENT*
John and Nancy Edwards Family Foundation (JANEFF)*
Robert Procop*
The Stone Family Fund*
Cretaceous Sponsor
Amgen Inc.
California Community Foundation
Capital Group 
Marcy Carsey 
Corbel Capital Partners*
East West Bank
First Republic Bank
Paul G Haaga, Jr and Heather Sturt Haaga
Darryl Holter and Carole Shammas
JPMorgan Chase & Co.
Alexander and Elizabeth Kendall*
Naomi and Fred Kurata*
Lido Advisors
Louchheim and Marks Families*
Lucas Museum of Narrative Art
Lisa and Gregg Martin*
Greenberg Glusker LLP
MATT Construction and Frederick Fisher and Partners
Megan McGowan-Epstein and Alan Epstein*
Supervisor Holly J. Mitchell
Maya, Amar, Raj, Athena Nair
Payden & Rygel
Peter and Marcie Scranton*
Jason Silletti & Ashlie Woods – Goldman Sachs
Supervisor Hilda L. Solis
The California Wellness Foundation
The Carl & Linda Moy Family Foundation
University of Southern California
Vera R. Campbell Foundation
Walraven & Westerfeld LLP 
Jun Xu and Peggy Hsieh*
Trustee Sponsor 
Lori Bettison-Varga and Robert Varga*
Heather and Dirk de Roos*
Karen and James Hoffman* 
Curtis C. Jung and Lynn Hatashita Jung*
Richard F. and Tina Moss*
Diane Naegele*
In-Kind Sponsor
Beckmen Vineyards Los Olivos, California
Cobblestone Vineyards and KJazz 88.1 FM
Tequila Hacienda de Tepa Reserva Especial
Patron Pair
Arthur J. Gallagher & Co.     
Bel Air Investment Advisors 
The Yuval Bar-Zemer and Gudrun Gotschke Trust 
Event Contributors
Scott and Cam Hall
Los Angeles Football Club
Supervisor Kathryn Barger
Caroline Labiner Moser and Franklin G. Moser
Bel Air Investment Advisors 
Angeles Investment Advisors, LLC
Pamela and Steve Hirsh
*Member NHMLAC Board of Trustees
What is deep time?
NHMLAC's ESTEAM Pathways
Your contribution helps ensure that future generations of environmental and scientific leaders reflect the diversity of Los Angeles by supporting educational initiatives that include: 
We work with a network of local community partners to empower youth and families from South L.A. through outdoor experiences at state parks and other public lands. These programs remove barriers to the outdoors by providing transportation, learning materials, and accessible field trips that serve historically marginalized communities.
We offer a six-month-long internship program for East Los Angeles high school students that introduces them to the joy of scientific discovery by providing real-world experience in marine science subjects. The program helps participants become critical thinkers, communicators, and community ambassadors as they produce marine science-related projects and encourages them to pursue science careers and pathways to higher education.  
Research Training and Mentorship
We support professional development and educational enrichment for 30 post-baccalaureate students and graduates who facilitate biodiversity research alongside our curators and other NHMLAC staff. The program provides focused mentoring that enables mentees to build confidence and competence in a broad range of STEM careers as they participate in research that focuses on how our changing planet impacts Southern California's biodiversity.
NHMLAC has received generous funding from the Vera R. Campbell Foundation for the Marine Science Teen Internship Program, from the National Science Foundation for the RaMP research training and mentorship initiative, and from the CA State Parks and Recreation agency for the Outdoor Equity Program.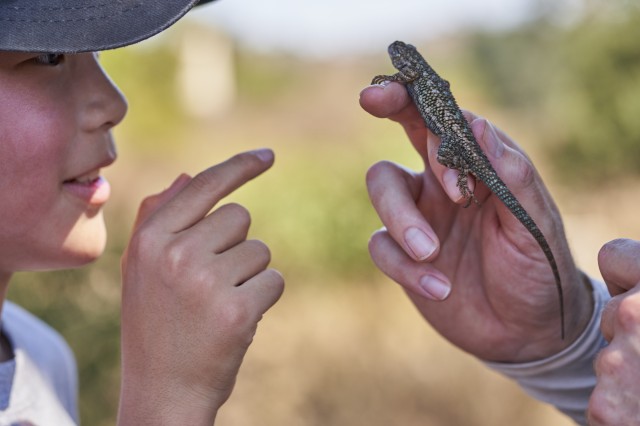 A participant at the launch of Wild L.A.: Exploring Nature at Charmlee Park, a 3-year Outdoor Equity Grant awarded by California Parks and Recreation.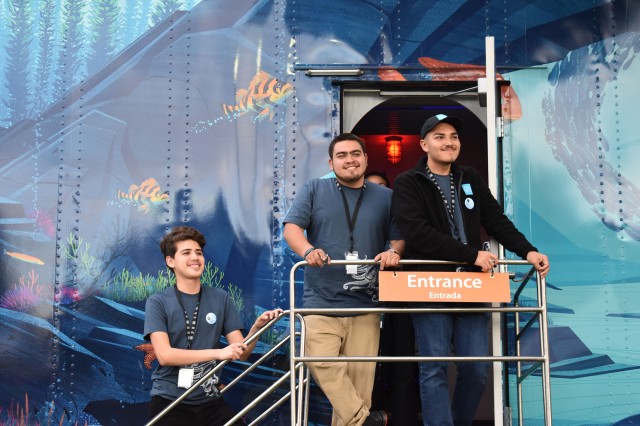 Marine Science Teen Internship Program participants at NHM's Mobile Museum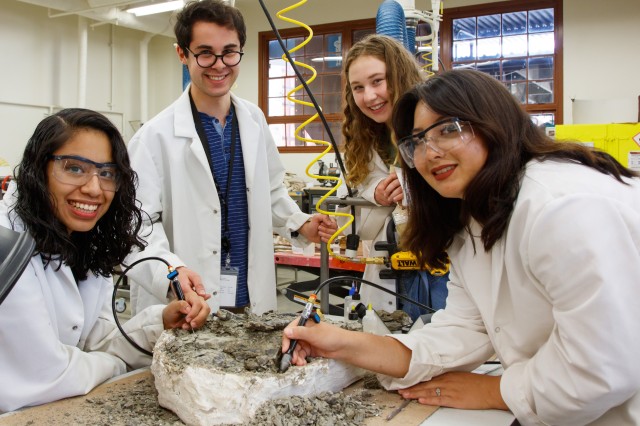 Students Nancy Granados, Ben Wolman, Rachel Mrkaich, and Isabella Araiza in NHM's
Dinosaur Institute prep lab.