Angelenos Building Community: Celebrating Celia Ward-Wallace, South LA Cafe
Building community and connection through coffee in South L.A.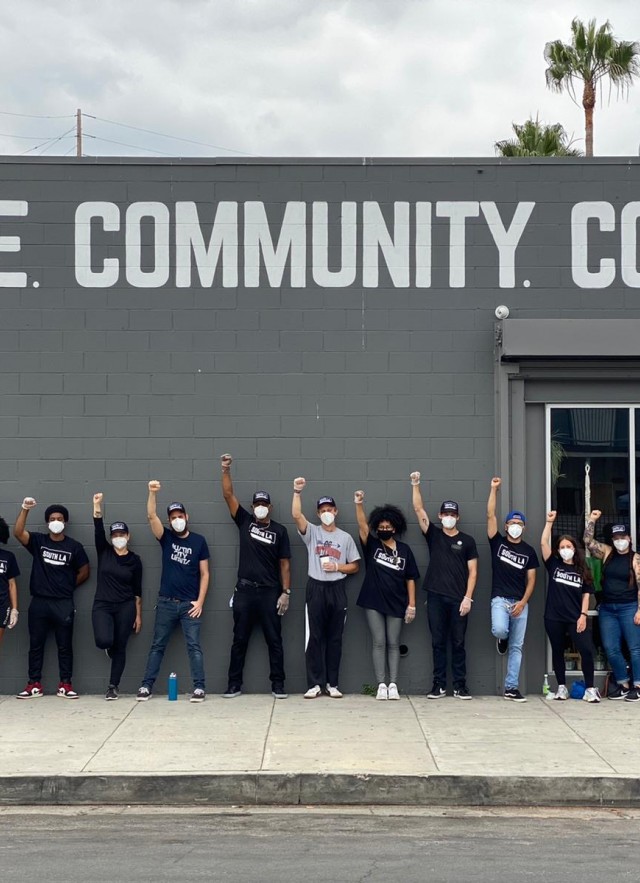 Angelenos Building Community is a series of stories from a diverse range of Angelenos and the work they do in support of their community in Los Angeles. The Natural History Museum of Los Angeles County is committed to uplifting the voices of community members who strive to create an equitable, accessible, and inclusive community for all.
MEET CELIA WARD-WALLACE
Celia Ward-Wallace is an internationally recognized expert in the fields of Social Entrepreneurship, Women's Empowerment, and Community Building & Activism. She is the Co-Founder of South LA Cafe, a community coffee shop and cultural center in the heart of South Central Los Angeles. South LA Cafe arose as an anti-gentrification effort for cultural preservation and also a safe haven for disenfranchised community members to gain access to fresh, healthy, and affordable food while living in the middle of a food desert. 
Celia also owns a coaching and consulting firm and training academy, which provides intuitive strategy and mentorship to world-changing leaders, activists, entrepreneurs and conscious brands. 
As the daughter of lifelong community organizers, Celia has committed her life to activism and advocacy. She specialized in the study of intergroup conflict and prejudice as well as civil and women's rights while at UCLA and received her Juris Doctorate from the People's College of Law. Celia is a long-term resident of South Central Los Angeles, where she lives with her husband and two daughters. 
South LA Cafe is a Community Partner of NHM (What's this? Learn more).
South LA Cafe also recently joined NHMLAC as its new food, beverage, and hospitality provider under the newly formed entity South LA Cafe (SLAC) Hospitality. The restaurant and hospitality management company will provide a unique museum dining experience to our visitors, centering hyperlocal restaurants, cafes, and chefs whose values and offerings are reflective of the communities in which they live and serve. 
Video Interview
Watch a video interview between Celia Ward-Wallace, cofounder of South LA Cafe, and Milena Acosta, Senior Community Engagement Manager, as they discuss how coffee was a vehicle for community building and connection for the South L.A. community. 
CAN YOU TELL US A BIT ABOUT YOURSELF? DID YOU GROW UP IN L.A.?
I am a resident of South Central L.A., the Co-Founder of South LA Cafe, and the CEO of The Ward-Wallace Group Coaching & Consulting Firm. I am an activist, community builder and organizer, and mentor, advocate, and friend. I work with my husband Joe, and together we've create a community-based, family-owned business, for the people by the people. 
Tell us about your job and career.
I am the Co-Founder of South LA & Market, and there I do a bit of everything. I am a great barista and cashier, as well as staff trainer, human resource manager, community partnership leader, and many, many more things. Luckily I work with my brilliant husband Joe who is a visionary leader, and together we work really long days and nights trying to do right by our community. As a coach and consultant I work with leaders, activists, and conscious brands to create work that makes a difference and creates massive social impact. 
How do you incorporate community into the work that you do?
As the Co-Founder of South LA Cafe I work deeply with the community to co-create a space that is safe and welcoming for all which also serve the people with the issues that matter most to them. We focus on racial and economic injustice as well as food injustice and providing equal access to fresh, healthy, and affordable food. We believe that food, housing, employment, education, and health care are all human rights that everyone should have. We fight for the people and utilize our position of privilege to be a voice for the masses. 
Interview Facilitator
Milena Acosta is a marine biologist and science communicator, with 19 years of experience working in out-of-school learning institutions. Throughout the years, she has worked in live animal care, education outreach, and curriculum development. In 2015, Milena joined the Natural History Museum to support the Museum in helping people of all ages and backgrounds to connect with science and the natural world.   In her current role as Manager of Community Engagement, she is working to build empowering relationships with community-based organizations where both the Museum and community partners have the opportunity to learn and grow from one another.