A Beloved Mountain Lion's Legacy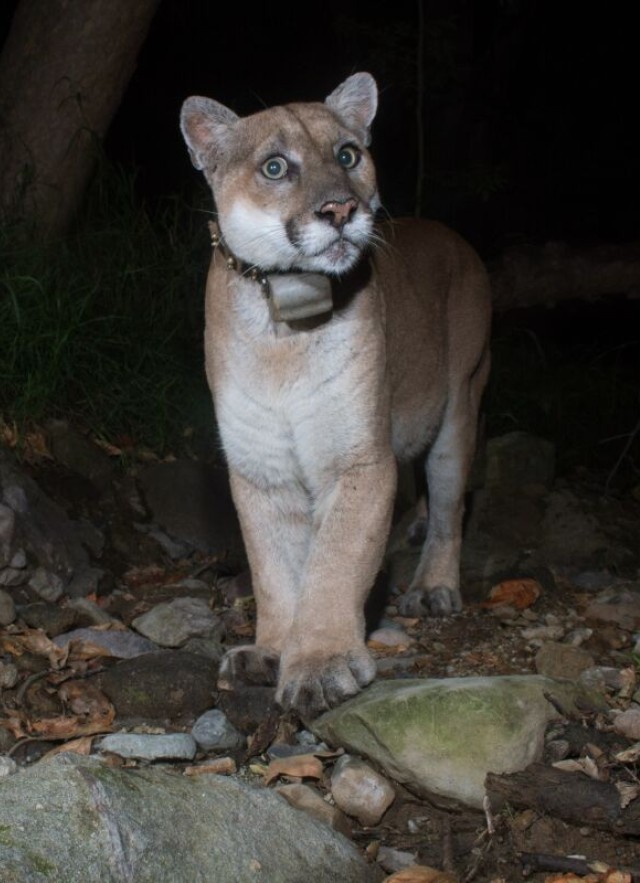 P-22, L.A.'s famous mountain lion, was a charismatic cat. The puma's well-chronicled life as a solitary male marooned in eight square miles of Griffith Park helped galvanize interest in urban wildlife and spur city dwellers to be advocates for habitat conservation.
The California Department of Fish and Wildlife (CDFW), along with wildlife biologists with the National Park Service, made the decision to euthanize P-22 on December 17, 2022 due to the severity of the injuries he suffered after being hit by a car. He was captured and tranquilized out of concern for his well-being due to his advanced age, declining health, and recent attacks on pets in residential areas, which suggested the puma was in distress. After being examined by the CDFW, it was determined that he was malnourished, suffering from mange, and had extreme trauma to one eye, possibly from contact with a motor vehicle.
On December 23, P-22's remains arrived at NHM. He was transported by NHM Senior Manager of Community Science Miguel Ordeñana, Assistant Curator of Mammalogy Kayce Bell, and descendents from Gabrieleño/Tongva, Tataviam, and Chumash Tribes. They were joined at the Museum by descendants from Gabrielino-Shoshone, Akimel O'otham, and Luiseño Tribes. Upon arriving at NHM, Tribal representatives led a blessing ceremony welcoming P-22 back to his homeland. 
In a private ceremony led by members of local Native American Tribes, the much beloved and famous feline P-22 was buried on March 4, 2023. NHMLAC scientists were tasked with the job of transferring his remains, with pallbearers in escort, to the burial site where Tribal representatives collectively oversaw this historically significant ceremony.
"On behalf of everyone at NHMLAC, we are very saddened by the loss of P-22, an iconic ambassador for wildlife in Los Angeles. His passing is a painful moment, but we are so thankful for how he created a better understanding of the coexistence of urban wildlife, humans and L.A.'s biodiversity," said Ordeñana. "His story is a catalyst for change, inspiring conservation efforts, including the 101 freeway wildlife crossing and much more. Even in his death, P-22 continues to inspire L.A. to embrace urban wildlife conservation and the nature that surrounds us. NHMLAC will continue to share his story, and honor and preserve his legacy for generations to come."
Ordeñana hopes P-22's legacy will provide all communities, including those historically excluded from nature, with a sense of pride and belonging in L.A. nature and within the field of wildlife conservation.
P-22 was first spotted in 2012 by Ordeñana as part of the Griffith Park Connectivity Study, a joint effort of Friends of Griffith Park, Cooper Ecological Monitoring, Inc. and the U.S. Geological Survey. For the study, Ordeñana had set camera traps (motion-activated cameras) to document wide-ranging wildlife in the park and on potential corridors as a way to document connectivity between Griffith Park and neighboring open spaces. Ordeñana was thrilled to discover an image of a mountain lion, whose presence in the area had previously not been officially verified. Discovering a mountain lion in Griffith Park confirmed for scientists the park's role as a haven for wildlife that is more connected to nearby open spaces than previously thought.
Discovery and Activism
Not only did P-22 inspire podcasts, news articles, and a devoted fan club, he was the subject of scientific research and a catalyst for environmental initiatives. A first-ever video of P-22 vocalizing supports cutting-edge research suggesting that puma communication is more complex than we once thought. His plight also helped inspire the development of the Wallis Annenberg Liberty Canyon Wildlife Crossing, destined to be the biggest such corridor in the world.
The Story of P-22
We will continue to celebrate P-22 through The Story of P-22, L.A.'s Most Famous Feline, a permanent exhibit which opened in 2017 at NHM and documents the puma's journey through graphics, projections, photography, and video. The exhibition includes footage of the cougar being collared and moving through his territory at night, and explores survival challenges that he and all of Southern California's mountain lions face living in L.A.'s backyard.