Los Angeles is Being Invaded by Frogs!
Sunday, September 6, 7:54 pm, my phone vibrates with an incoming text message.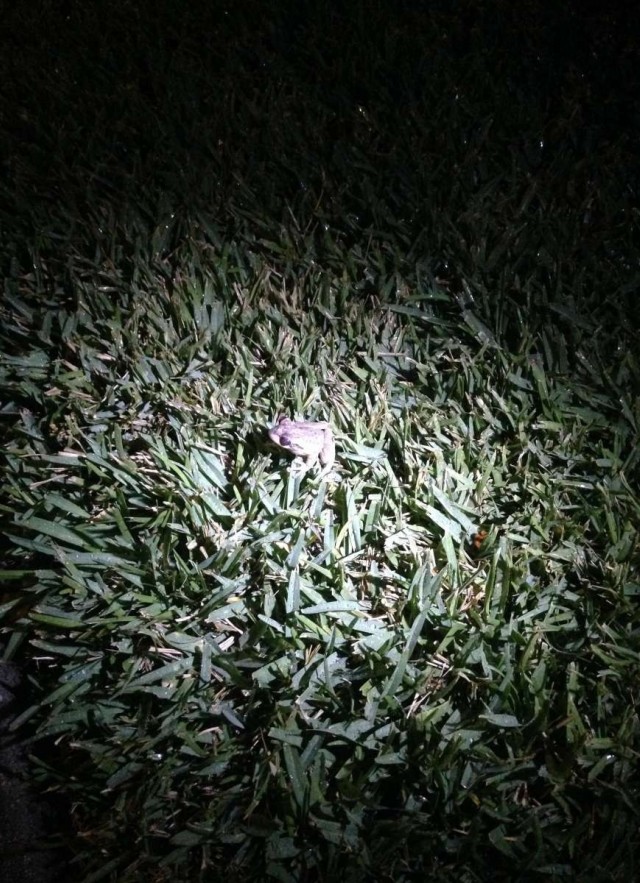 Sunday, September 6, 7:54 pm, my phone vibrates with an incoming text message. I look down and see a photo of a frog taken in Hollywood. This isn't an unusual occurrence. When you study urban biodiversity and spend big portions of time telling anyone that will listen that they can make the next big urban biodiversity discovery, this is the happy result—incoming photos of critters to identify. Usually it is a native frog, lizard, or snake, but with alarming and increasing frequency, the photographed critter is a nonnative species.  
The mystery frog as found in Hollywood and photographed by Elizabeth Long. In this photo, the critter is a frog. But is it a common native or an unusual nonnative? Unfortunately, smartphones aren't great at taking nighttime photographs of frogs, and I can't yet be sure of the identification. However, I can see that the eyes look big and the pattern looks unusual. I text back, "Bag it please. Photo looks strange." Normally this wouldn't be my response, but the person texting me is another scientist, Dr. Elizabeth Long, the Museum's butterfly expert and fellow urban biodiversity aficionado. Unfortunately, by then the frog had been caught and released, but Elizabeth adds another piece of info: the eyes were red. I get more excited with that info as it further suggests it is a nonnative. Our native frogs do not have red eyeshine, but some tropical frogs that get moved around in the nursery plant trade do.   A few minutes later, the next clue: Elizabeth tells me her husband Zach's eyes are watering. Amphibian skin secretions often have defensive chemicals in them to ward off predators. This is why you always want to wash your hands after touching an amphibian; otherwise, if you rub your eyes, lick your fingers, or pick your nose, you might be in for a very unpleasant experience. But in some frog species, these skin secretions are capable of causing a reaction even at a distance. A potential mammalian predator can't mount much of an attack if his eyes are watering and nose is running. Zach is pretty sure he didn't rub his eyes, and because none of our native frogs have this ability, maybe this is a nonnative frog? This info should have been enough for me to make the identification. I was already pretty sure the frog was a Cuban treefrog, but having caught them in Florida, I never had a reaction to their skin secretions so I wasn't sure yet.   The problem was solved a few minutes later. Elizabeth and Zach re-found the frog and sent some more photos. My response: "We are officially one screwed up state! We are Florida. Bring on the boas and pythons." The frog is a Cuban treefrog, Osteopilus septentrionalis. And a quick internet search confirms that they are capable of the reaction Zach experienced. I guess I was lucky when I was catching them in Florida. Zach, on the other hand, felt the effects for nearly an hour! Pretty impressive for a little frog.  
 The Cuban treefrog, as its name suggests, is native to Cuba and also the Bahamas and Cayman Islands. The frogs showed up in South Florida in the 1920s likely as stowaways on cargo ships and then spread rapidly throughout southern Florida. The frogs also show up occasionally in other places after hitching rides in nursery plant shipments. In Southern California, the most likely route of dispersal is through the nursery plant trade and the occasional individual has shown up previously at Southern California nurseries in shipments originating from Florida. Elizabeth's discovery, however, is the first I am aware of in which the frog was found out and about in a neighborhood.   Here's the key question: If among my group of friends, we can find new records of nonnative species in Southern California, how many more nonnative reptiles and amphibians occur across Southern California that have never been documented?   WE NEED YOUR HELP!!! This is where citizen science comes in. We need people all across Southern California to help us document these nonnative, and potentially invasive species. If you see a reptile or amphibian in Southern California, take a photo, and e-mail it to rascals@nhm.org. Alternatively, you can upload your observation directly to the iNaturalist project page, or tag it #NatureinLA on social media. RASCals (Reptiles and Amphibians of Southern California) is a citizen science project that documents and tracks nonnative species. In the past two years, we have documented the first record of an invasive reptile or amphibian population established in Southern California five times, all thanks to citizen scienctists like you. We then worked with the citizen scientist(s) to publish the findings in peer-reviewed papers, with them as co-authors!   Cuban treefrogs are just one of many nonnative reptiles and amphibians showing up in Southern California. Here are some other nonnative species we are also tracking. One of these nonnatives could very well be thriving in your backyard, or tucked under the leaves of the tropical plant you just brought home from your local nursery. If you see one of these, please let us know.   Brown Anole The brown anole, Anolis sagrei, is also native to Cuba. Brown anoles first showed up in Florida in 1887, and were likely introduced to the major seaports of Florida numerous times. The anole lizards then caught a ride over to Hawaii where they have rapidly expanded. Brown anoles have been occasionally showing up in Southern California for several decades either as escapees from the pet trade or as stowaways on nursery plants, but populations either did not become established or did not get reported to scientists and wildlife officials who document them. In the past few years, however, established brown anole populations have been recorded in San Diego County. And just in the past two months, I have documented the first established brown anole populations in Orange and Los Angeles Counties. I expect that there are many more out there, so please keep an eye out and your smartphone camera ready.
 Green Anole Another anole that is showing up in our region is the Carolina anole or green anole, Anolis carolinensis. This species is native to the southeastern U.S. it has also become established in Hawaii and many other places. Through both the pet trade and the nursery plant trade, green anoles find their way to Southern California, and there are now multiple populations here. Interestingly, in areas like Hawaii and Florida where both brown and green anoles occur, the brown anoles often outcompete the green anoles in the lower parts of the habitat forcing the green anoles to stay higher up in the vegetation.  

Brahminy Blind Snake (No, it's not an Earthworm) Whereas Florida's invasive snake problem involves one of the largest snakes in the world, California's invading snake is one of the smallest snakes in the world. The Brahminy blind snake, Ramphotyphlops braminu, is a tiny, harmless, brown snake, frequently mistaken for an earthworm. Earthworms are segmented and have moist skin, whereas these snakes are dry and covered with small scales. The Brahminy blind snake gets moved around in soil, which is how it also gets the name the flowerpot snake. This snake has likely been getting moved around by people for thousands of years, which is why its native range is unknown though certainly includes South Asia and India. In Southern California, look for them in backyard mulch piles or crawling across the sidewalk just after the sprinklers have gone off. Earthworms can be found in the same places, so take a close took to see if it is the tiniest snake you have ever seen!  
Brahminy blind snake, RASCals photo by citizen scientist Mickey Long  Cuban tree frogs, brown anoles, green anoles, and the Brahminy blind snakes are just a few of the nonnative reptiles and amphibians showing up in Southern California. Coqui frogs and multiple species of house geckos are also becoming increasingly common here. If you see any of these species, please help document their spread—take a photo and submit it to rascals@nhm.org. Understanding the impacts of these nonnative species requires first documenting where they are, and that can only happen with the help of citizen scientists like you.