Dinosaur Encounters
To provide a safe environment for our guests and staff with ample space for social distancing, we are not currently offering our Dinosaurs Encounters show. We look forward to being able to offer these in the future when it is safe to do so.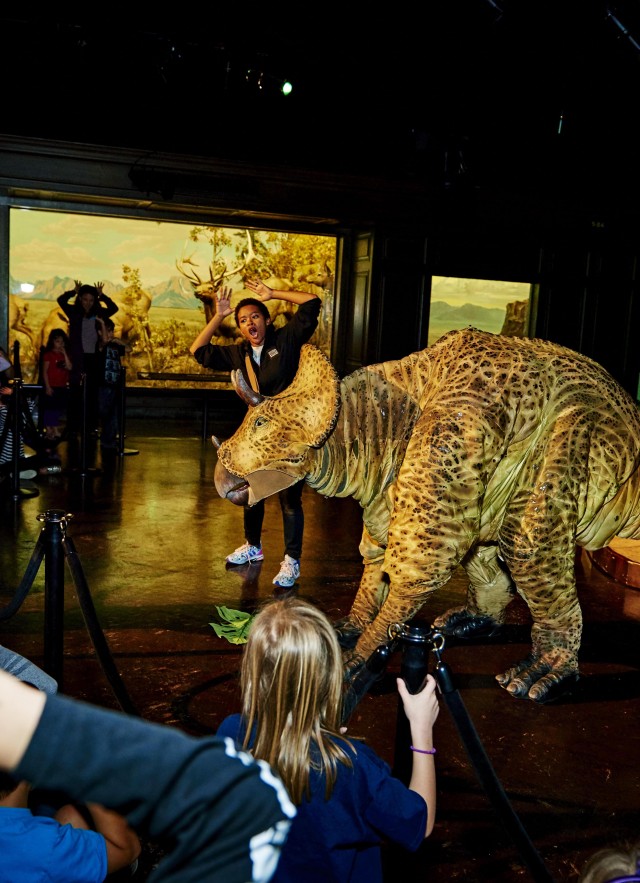 Get close to a living, breathing dinosaur!
Fun, educational, and interactive, Dinosaur Encounters features NHM's life-size dinosaur puppets. Each presenter focuses on a different topic, including theories on dinosaur behavior, extinction, adaptation, and the relationship between birds and dinosaurs. Please note these are not small hand puppets. The museum's puppets are very large, realistic interpretations of wild animals. Please prepare small children accordingly. Dinosaur Encounters is family friendly, and each presentation is about 20 minutes long.
We also have a special Sensory Friendly Dinosaur Encounters show on the first Saturday of every month. Our Sensory Friendly performance provides a warm welcome to guests who need a little less stimulating environment and the opportunity to move around during the show. 
Dinosaur Encounters takes place at the North American Mammal Hall, Level 2. 
Learn more about our Live Theater shows.
Dinosaur Encounters is made possible in part by a grant from the City of Los Angeles Department of Cultural Affairs.