Summer Nights in the Garden
Add to calendar
2019-07-12 17:00:00
2019-07-12 21:00:00
Event - Summer Nights in the Garden - July 12 - NHM
Natural History Museum
nhmla
webmaster@nhm.org
America/Los_Angeles
public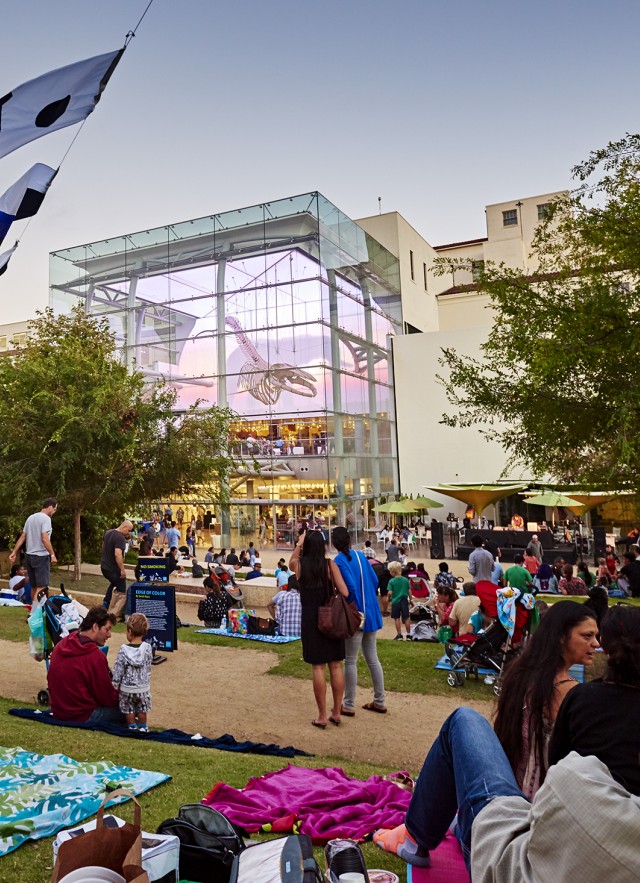 Join us for the sixth annual Summer Nights in the Garden series. Get outside this summer and enjoy the evening breeze, late sunset, and starry skies. The Summer Nights in the Gardens series is a celebration of all things summer in the enchanting Nature Gardens at NHM.

Spend your Friday night sipping a garden-infused cocktail, stumbling upon a myriad of outdoor experiences while exploring the museum's backyard, and brightening your life with nature-inspired activities. Have a picnic or get a little lost in the gardens—all while the beats from live music performances set the mood.

#NHMLA  #SummerNights
Discardosaurus is the result of a collaborative effort between Riaunna Hineman, Kirk Kunihiro, Mucio Martinez, Sophia Nielsen, members of an environmentalist collective of junk punks known as "The Trash Pirates," a group engaged in the business of providing sustainable waste management and site restoration services to festivals and events throughout the world.
Having recently completed and displayed a waste related installation for another event (Discard, Bombay Beach Biennale 2019), it was brought to Kirk's attention that the Natural History Museum was soliciting artist proposals for a summer event series. Sophia made her BFA thesis, There is No Away, out of trash she collected over 8 months and installed in a 40 cubic yard dumpster, including a ceiling and rug woven out of cigarette butts. Mucio is a tinkerer inspired by 80s cyberpunk to shape the world with repurposed materials. He enjoys working with metal and electronics to evoke feelings of industrial decay. The dystopian feeling of a dying tech dinosaur drew Mucio to this project. Riaunna is a freelance plumber, part time garbage.
Kerry Simester, aka DJ KERRY, began her musical beginnings with the piano at the tender age of 8.  By the age of 12, Kerry was making her own mix tapes through the influences of Michael Jackson, SOS Band, & Mtume to name a few.  Her musical taste has since then expanded over the years and enjoys everything from R&B classics, Disco, Nu-Disco, to House and everything in-between.  Many of her DJ influences come from DJs such as Louie Vega, Marques Wyatt, Joe Claussell, DJ Harvey, Greg Wilson and David Mancuso to name a few.
A Place Called Home (APCH) provides a safe, nurturing environment with proven programs in arts, education and wellness for the young people in South Central Los Angeles to help them improve their economic conditions and develop healthy, fulfilling, and purposeful lives. Our music department provides disciplined instruction, hands on classes, college and job readiness, as well as professional level resources. Our most advanced musicians have the opportunity to play in the advanced ensemble 29 Live. The music department also releases an annual self-produced album, which can be found on iTunes.
Ballet Folklorico del Alma was founded in 2016 in the city of Santa Monica by Cynthia Lua. Ballet Folklorico del Alma is not only a folklorico group; it is a dance family that consists of dancers of varying ages and levels of experience who were brought together by their love of dance. Audiences are captivated by the dancers' passion for folklorico that is seen in every swish of their skirts, smiles from their hearts, and zapateado from their folklorico shoes. Ballet Folklorico del Alma has performed at the LA County Fair, La Plaza de Cultura y Artes, Citadel Outlets, La Carrera de los Muertos Los Angeles and at the annual Riverside Festival of Lights among many other events throughout the community. 
Two talented kitties prove they are more then just fluff! A dance act by NHM's very own Performing Artists!
​Meet our Museum neighbor, California African American Museum, here at Summer Nights in the Garden and join them for a drop-in art activity!
​Meet our Museum neighbor, California Science Center, here at Summer Nights in the Garden and join them for a drop-in activity and get a closer view of the world around and above by exploring various types of telescopes. They will experiment with different lens combinations that help us understand better how the world looks!
Showing the universe as art is an admission that the truth is sufficiently beautiful and that it deserves our attention. We want to show participants the incredibly glorious vista of the planets through a telescope.  There's a beautiful moment when the viewer's world view expands to include the planets they learned about in school. They're not just fairy tales or abstract concepts any more. It's real. Sometimes this can be terrifying. It's always awesome. Lines often form. There's also a calming sense of scale that comes along with observing the sky, making the observer feel small, even humble.
A big thanks to our sponsors