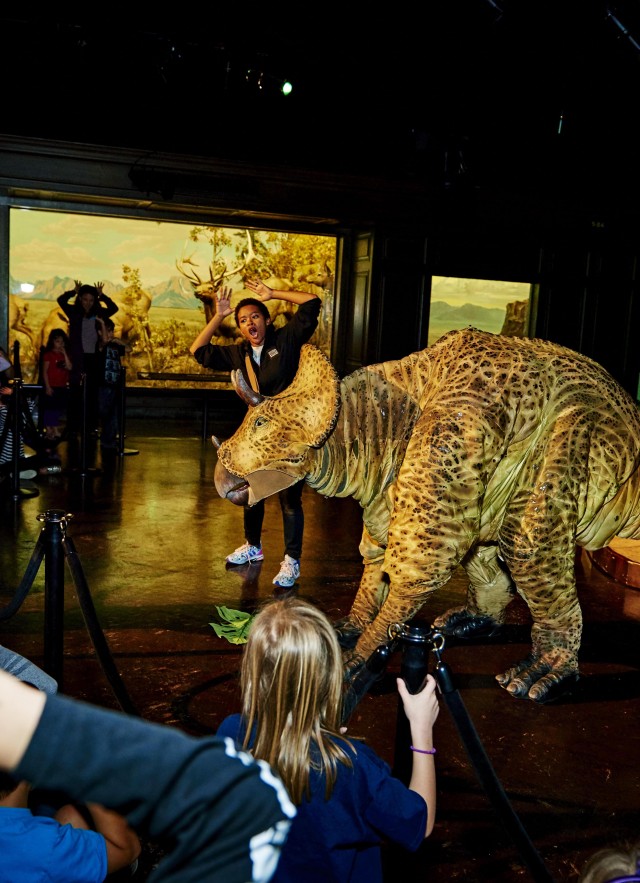 Museum Theater
The team behind the Performing Arts department at the Natural History Museums of Los Angeles County creates live theatrical performances based on our exhibits, research, and events.
You may know their Dinosaur and Ice Age Encounters shows, but at special museum events you might also catch them singing bug songs, hear a story with squirrel puppets, meet giant jumping flea or butterfly characters in the garden, watch a miniature puppet theater show, or get stopped in your tracks by a saber-toothed cat marionette puppet! 
Dinosaur Encounters is made possible in part by a grant from the City of Los Angeles Department of Cultural Affairs.
Museum Theater
Museum theater is the use of theater and theatrical techniques by a museum for educational, informative, and entertainment purposes. It can also be used in a zoo, an aquarium, an art gallery, and at historic sites. It is generally performed by professional actors. Varieties of museum theater include historical characters, puppetry, movement and music.
The International Museum Theatre Alliance (IMTAL) is the professional association for Museum Theater. 
Dinosaur Encounters
Watch as dinosaurs come to life!
Our realistic T. rex and Triceratops large-scale puppets capture the imaginations of audiences in performances each week. Thanks to the expertise of NHM's paleontologists and puppeteers, you can experience how these prehistoric animals lived.  Our team of performance artists will guide you back in time to better understand dinosaur anatomy, possible behavior, and movement. 
Our Live In-Person shows are currently suspended until further notice  
Learn more about what to expect at a live Dinosaur Encounters performance.
See the Dino Puppets backstage!
See life-sized juvenile dinosaurs, Hunter the T. rex and Dakota the Triceratops, backstage!
On view every day in the Discovery Center on Level 2.
"Hunter" the T. rex 
Hunter is a life-like full body puppet based on the juvenile specimen in the T. rex growth series on view in the new Dinosaur Hall.
Covering Hunter are "proto-feathers."  Dinosaurs and birds share a common ancestor, and it has been hypothesized that a juvenile T. rex may have had downy feathers to keep warm. As an apex predator, Hunter is always on the lookout for a good meal. 
"Dakota" the Triceratops
Dakota is a realistic large-scale puppet of a juvenile Triceratops specimen.  She is named after the great state of South Dakota where Triceratops is the state fossil.  



How do the puppets work? How do they move and roar?
Our Performing Artists explain!
Appearances and Videos
Hunter the T. rex and Dakota the Triceratops can be seen on the prowl throughout Los Angeles! They have appeared with Bill Nye on Netflix's "Bill Nye Saves the World" (Season 2, Episode 5), Hallmark Channel's "Home and Family", "Good Day LA.", and "Little Big Shots Starring Steve Harvey", among many more.
Program Accolades
Department of Cultural Affairs, City of Los Angeles
Since 2015, DCA has awarded the Dinosaur Encounters Program with a grant in recognition of the artistry of combining creative theater with scientific education. 
National Endowment for the Arts
In recognition for innovative cross-disciplinary arts programming, our Museum was one of the featured organizations on the NEA's Facebook page for the 2011 National Arts and Humanities month.
For Teachers
Our interactive performing arts programs can easily support many of the California Visual and Performing Arts Standards for grades Pre-K through 5, using a combination of theater and kinesthetic lesson plans. Make the most of your field trip to NHM by including a stop at Dinosaur Encounters presentation.
The Performing Arts team's "Bug Band" performing bug-themed songs for Bug Fair.
Dakota, our full-suit Triceratops puppet, making a friend in our Dinosaur Hall.
Los Angeles: Coming Home, a "forum theater" style of performance created in collaboration with the Institute for Theatre & Social Change at the USC School for Dramatic Arts and community activists from CHIRLA, IDEPSCA, and L.A. Poverty Department.
You might discover one of our giant jumping flea causing a scene in the gardens during Nature Fest!
Stilt characters such as our monarch butterfly draw the crowds at our outdoor festivals.
At La Brea Tar Pits you may have a chance to meet "Nibbles", our Saber-toothed cub marionette. Check our calendar for "Meet and Greet" schedule.
Our Eastern fox squirrel marionettes can't be tamed! It's a good idea to check your stroller before you leave the Museum.
At La Brea Tar Pits you can see a life-sized adult Saber-toothed cat in one of our Ice Age Encounters shows.