Summer Nights in the Garden
Add to calendar
2019-06-28 17:00:00
2019-06-28 21:00:00
Event - Summer Nights in the Garden - June 28 - NHM
Natural History Museum
nhmla
webmaster@nhm.org
America/Los_Angeles
public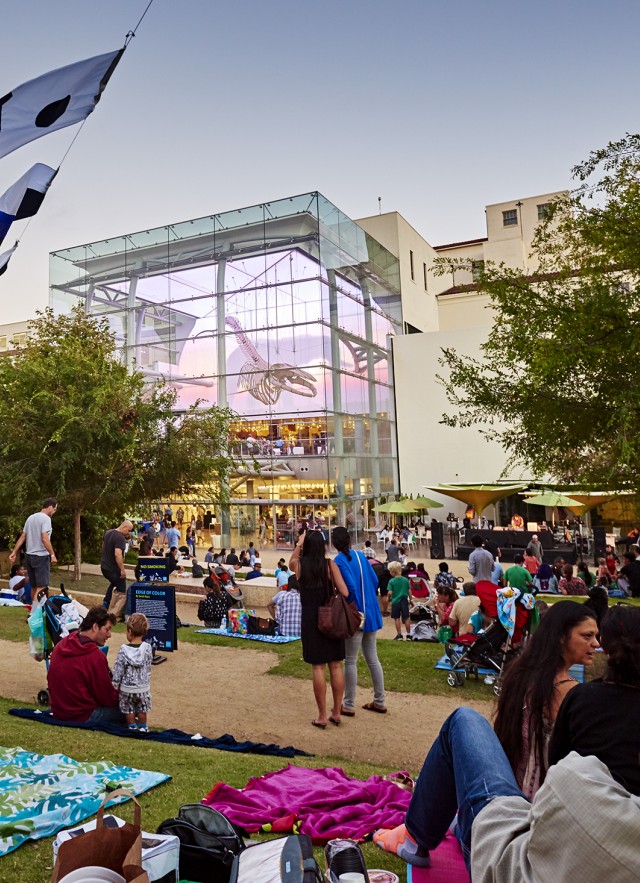 Join us for the sixth annual Summer Nights in the Garden series. Get outside this Summer and enjoy the evening breeze, late sunset, and starry skies. The Summer Nights in the Gardens series is a celebration of all things Summer in the enchanting Nature Gardens at NHM.
 
Spend your Friday night sipping a garden-infused cocktail, stumbling upon a myriad of outdoor experiences while exploring the museum's backyard, and brightening your life with nature-inspired activities. Have a picnic or get a little lost in the gardens—all while the beats from live music performances set the mood.
#NHMLA #SummerNights
Discardosaurus is the result of a collaborative effort between Riaunna Hineman, Kirk Kunihiro, Mucio Martinez, Sophia Nielsen, members of an environmentalist collective of junk punks known as "The Trash Pirates," a group engaged in the business of providing sustainable waste management and site restoration services to festivals and events throughout the world.
Having recently completed and displayed a waste related installation for another event (Discard, Bombay Beach Biennale 2019), it was brought to Kirk's attention that the Natural History Museum was soliciting artist proposals for a summer event series. Sophia made her BFA thesis, There is No Away, out of trash she collected over 8 months and installed in a 40 cubic yard dumpster, including a ceiling and rug woven out of cigarette butts. Mucio is a tinkerer inspired by 80s cyberpunk to shape the world with repurposed materials. He enjoys working with metal and electronics to evoke feelings of industrial decay. The dystopian feeling of a dying tech dinosaur drew Mucio to this project. Riaunna is a freelance plumber, part time garbage.
Chulita Vinyl Club is made up of women, gender-non-conforming, non-binary, LGBTQ+ and self-identifying people of color. CVC launched in 2014, with the context of providing a safe space for empowerment, togetherness and to utilize music and vinyl as a form of resistance against the erasure of culture.
Masanga Marimba plays traditional and popular music from Africa and Latin America. The instruments used in this ensemble consist of 7 Zimbabwean marimbas of various sizes along with vocals, drums, percussion, saxophone and trumpet. The word "Masanga" comes from an African word that means the coming together of rivers or roads representing the meeting of African, Latin and American traditions in this group. Masanga is the only marimba ensemble in Southern California that combines Latin and African traditions. The sight and sound of Masanga's giant marimbas is unlike anything you've ever seen or heard before.
Two talented kitties prove they are more then just fluff! A dance act by NHMLA's very own Performing Artists!
Join Miguel Ordeñana and Richard Smart from the NHM Community Science Program as they discuss the museum's "Backyard Bat" acoustic research in residential areas  throughout the Greater Los Angeles region, including some of the most urban neighborhoods in Los Angeles. You'll learn about some of the surprising amount of species that call Los Angeles home, how biologists study them, bat fun facts, why they are misunderstood, and how Angelenos can better coexist with bats.
A big thanks to our sponsors