Why Don't Women's Votes Put More Women in Power?
Add to calendar
2020-09-16 18:00:00
2020-09-16 19:00:00
Why Don't Women's Votes Put More Women in Power?
Online
nhmla
webmaster@nhm.org
America/Los_Angeles
public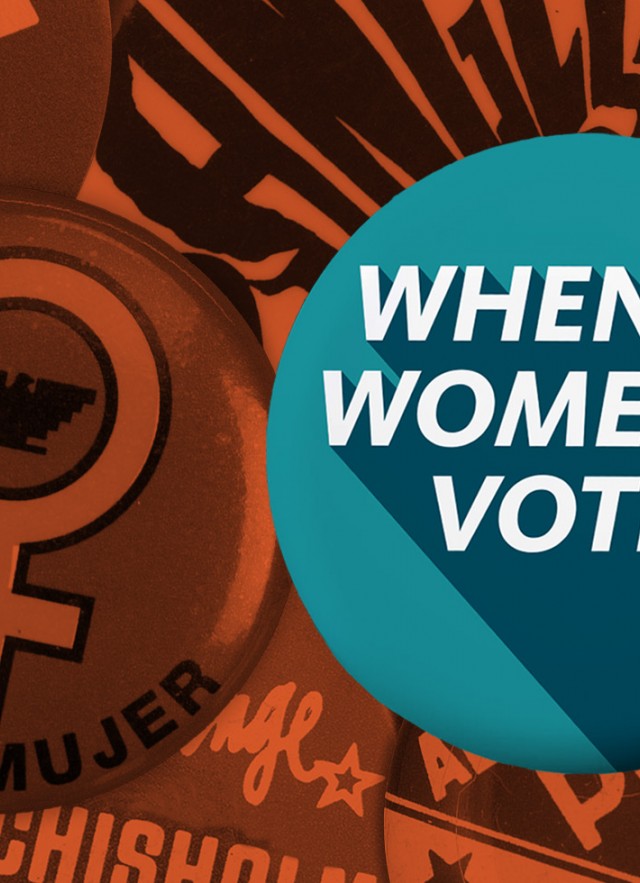 When Women Vote: A Zócalo/Natural History Museum of Los Angeles County Event Series
 One hundred years after the passing of the 19th Amendment, Zócalo and the Natural History Museum of Los Angeles County present When Women Vote, a three-event series that begins with "How Have Women's Protests Changed History?"

Why Don't Women's Votes Put More Women in Power?
SEPTEMBER 16, 2020  |  WEDNESDAY  |  6:00 PM PDT
Please note that live chat participation is available on the main video stream on the Zócalo Public Square YouTube Channel.
Moderated by Marisa Lagos, California Politics & Government Correspondent, KQED
Since 1964, more women than men have voted in every United States presidential election. Yet we still don't have a woman president or vice president; California, one of the first states to give women the right to vote, is one of 20 states that still hasn't had a female governor, and Los Angeles has never had a female mayor. Why do women remain much less likely than men to run for office, despite the fact that they win elections at comparable rates (and that in some cases, women have an edge)? What would it take for women to achieve political power equal to that of men both locally and nationally? 
One hundred years after the U.S. ratified the 19th Amendment, which was meant to guarantee American women the Constitutional right to vote, Johns Hopkins University historian Martha S. Jones, author of Vanguard: How Black Women Broke Barriers, Won the Vote, and Insisted on Equality for All, Institute for Women's Policy Research president C. Nicole Mason, California State Senator and author of the California Fair Pay Act Hannah Beth Jackson, and Rosie Rios, the 43rd Treasurer of the United States, visit Zócalo to discuss the impact a century of women voting has made on representation in America, California, and Los Angeles.
Dr. C. Nicole Mason is the president and CEO of the Institute for Women's Policy Research (IWPR), a leading voice on pay equity, economic policies, and research impacting women. She studies economic security, poverty, women's issues, and entitlement reforms; policy formation and political participation among women, communities of color, and youth; and racial equity. Prior to IWPR, Dr. Mason was the executive director of the Women of Color Policy Network at New York University's Robert F. Wagner Graduate School of Public Service. She is the author of Born Bright: A Young Girl's Journey from Nothing to Something in America. Her writing has been featured in The New York Times, The Nation, The Washington Post, Marie Claire, ESSENCE, and Bustle, among others.
Martha S. Jones is the Society of Black Alumni Presidential Professor and Professor of History at The Johns Hopkins University. She is a legal and cultural historian whose work examines how black Americans have shaped the story of American democracy. Professor Jones is the author of Birthright Citizens: A History of Race and Rights in Antebellum America. Her latest book, published Sept. 2020, is Vanguard: How Black Women Broke Barriers, Won the Vote, and Fought for Rights for All. Professor Jones is recognized as a public historian, frequently writing for broader audiences at outlets including the Washington Post, the Atlantic, USA Today, Public Books, the Chronicle of Higher Education, and Time. Professor Jones currently serves as a President of the Berkshire Conference of Women Historians, and on the Executive Board of the Organization of American Historians.
Marisa Lagos is a correspondent for KQED's California Politics and Government Desk and co-hosts a weekly show and podcast, Political Breakdown. At KQED, Lagos conducts reporting, analysis and investigations into state, local and national politics for radio, TV and online. Every week, she and cohost Scott Shafer sit down with political insiders on Political Breakdown, where they offer a peek into lives and personalities of those driving politics in California and beyond. Previously, she worked for nine years at the San Francisco Chronicle covering San Francisco City Hall and state politics; and at the San Francisco Examiner and Los Angeles Times. She has won awards for her work investigating the 2017 wildfires and her ongoing coverage of criminal justice issues in California. She lives in San Francisco with her two sons and husband.
Hannah-Beth Jackson is a former prosecutor and practicing attorney, educator, and small business owner. She was elected to the California State Senate in 2012 to represent the 19th Senate District, which includes all of Santa Barbara County and western Ventura County. In the Senate, she is chair of the Senate Judiciary Committee and serves on several key committees, including the Natural Resources and Water Committee, the Labor and Industrial Relations Committee, and the Public Safety Committee. Hannah-Beth is the author of Senate Bill 358, the California Fair Pay Act, landmark legislation that established the strongest equal pay law in the country. She was recently named by the Huffington Post as one of 11 women around the country "blazing new trails" in American politics.
Rosie Rios is the CEO of Red River Associates, a real estate investment management firm. She was the 43rd Treasurer of the United States where she initiated and led the efforts to place a portrait of a woman on the front of U.S. currency for the first time in over a century. Upon her resignation in 2016, she received the Hamilton Award, the highest honor bestowed in the U.S. Department of the Treasury. Rosie was the longest serving Senate-confirmed Treasury official beginning with her time on the Treasury/Federal Reserve Transition Team in November 2008 at the height of the financial crisis. Following her tenure, she was appointed as a Visiting Scholar at the Radcliffe Institute for Advanced Study at Harvard University with a focus on Millennials and Post-Millennials. Most recently she was honored in August 2020 as one of USA Today's Women of the Century. Her personal passion includes EMPOWERMENT 2020, an initiative that facilitates the physical recognition of historical American women.