Humans On The Move
Dr. Amy Gusick, NHM's Associate Curator of Anthropology, looks for answers in her archaeological studies of how people responded to environmental fluctuations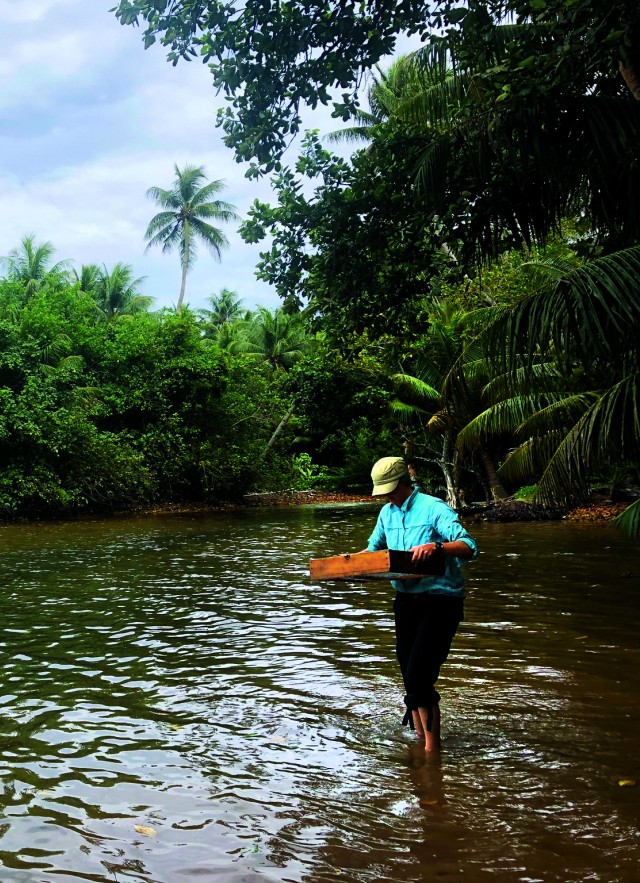 Climate change today isn't just affecting birds, snakes, or the myriad creatures not-yet described in the encyclopedia of life; humans are feeling it, too. Just as hotter sea temperature shift ranges of ocean dwellers, the same inhospitable conditions will force people to move as well. Global temperature rises will trigger displacement of human populations, altering migration patterns all over the world, and leave many densely populated areas underwater—from Miami to Venice, Italy—as well as some small island nations. As our environmental landscape changes, how will humans adapt? Dr. Amy Gusick, NHM's Associate Curator of Anthropology, looks for answers in her archaeological studies of how people responded to environmental fluctuations thousands of years ago.
On the island of Yap, in Micronesia, Gusick has joined a National Geographic–funded project lead by her colleague at the University of Oregon and is hoping to better understand local sea level rise history and the earliest occupation of the island, which may have occurred as early as 3,000 years ago. At that time, the sea level in the region dropped down, possibly encouraging migrations to newly available areas on the island. Today, as the islanders deal with rapid sea level rise, there is a real danger that they or their descendants may be displaced from their island home.
"Micronesia is a vast region comprising thousands of small islands, many of which are in danger of being inundated. Like other island regions in Oceania, it is ground zero for sea level rise. We're looking at the issue through archaeology—how we understand human history."
CHANNEL ISLAND CHANGES
What I look at (through archaeology) is what pushes people to migrate in the first place...and then what happens when they chose to stay in a place and have to begin adapting to pronounced changes in the environment."

DR. AMY GUSICK, NHM'S ASSOCIATE CURATOR OF ANTHROPOLOGY
Closer to home, Gusick is studying the development and migration into the New World of the maritime societies that lived on the Channel Islands, an archipelago off the coast of Southern California. Between 15,000 to 8,000 years ago, after the end of the last Ice Age, water from melting ice sheets flow into and swelled rivers and waterways, which caused sea levels to rise almost 300 feet, closer to today's sea level. This drastic changes caused people to migrate and resettle in areas less prone to flooding.
"Obviously talking about small bands of mobile hunter-gatherers, and how they respond to change in the landscape is vastly different than our society now," says Gusick, "but what looking at this does is strip away at the complexity of our society. Right now, we can exert some control over the land and resources. But if all that fails, what happens then?"
Click here to download a comic book by Matthew Napolitano that is related to this research.