Science on Tour
Join us for new, science-infused mini-adventures!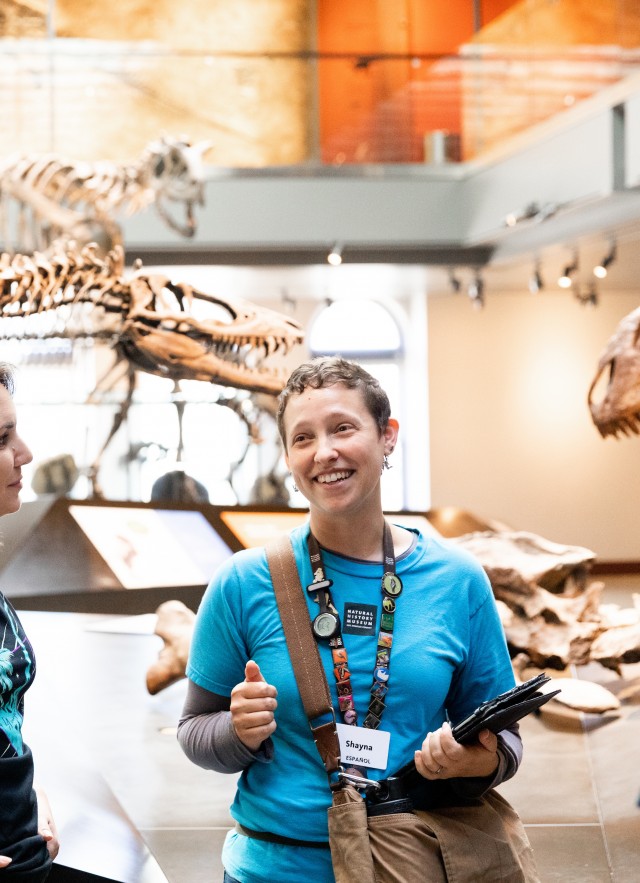 At NHM and La Brea Tar Pits this Winter, get ready for a new, science-infused mini-adventure. We've retooled our popular award-winning tours in order to illuminate the stories behind our research and collections. Our friendly, knowledgeable Gallery Interpreters (we call them GIs), those walkie-talkie-wielding Museum staffers, will be your guide on these daily journeys through our galleries. Jeff Chapman, NHM's Senior Manager of Interpretation and Training, says this team decided to modify the existing short, in-depth journeys around our museums to reveal the amazing work being done, often behind the scenes, by our researchers, collections managers, and conservation staff.
To update our Highlighting Research and Collections tour, our skilled GIs did their homework with in-house experts and scientists. They consulted researchers, curators, and collection staff, followed by months of writing, input from colleagues, and guidance from manager Chris Warren. The hard work shows—the new tours marry our interpreters' diverse educational backgrounds with NHM's incommensurable natural and cultural collections, and the manifold research the specimens and objects inspire.
Stars of the Tours
Consider the California grizzly, on view in our Becoming Los Angeles exhibition, and possibly one of the first featured stops on a new Collections Highlights Tour. Emblazoned on the state flag, the mighty animal is an indelible symbol of California, reflecting a story we tell about ourselves and our state's history. It's also a catalyst for a conversation about conservation and extinction (grizzly bear in the Lower 48 are currently protected as a threatened species, according to the U.S. Fish and Wildlife Service). Visitors to the exhibition can get closeup to a taxidermy grizzly that has been hibernating at the intersection of our natural and cultural history for a while.
Resetting the Table
GI Dan Priore, with a background in history, enjoys introducing guests to the current thinking behind certain overlooked pieces in the collections. "It kind of represents this border between the Mexican Puebla of Los Angeles and the new California State," Priore says of a table on display in Becoming Los Angeles. If it weren't in the exhibition, you probably wouldn't give it a second look, but it's where the Treaty of Cahuenga was signed, the agreement that ended hostilities between Mexico and the United States. Priore's tour brings guests back to that pivotal moment, presenting the object and the event through the prism of a historian's glasses.
Putting Meat on the Bones
Val Hatcher, another GI, knows how to tell a story well, because of her experience in theater and writing. There are still new chapters being written on the iconic saber-toothed cat, she says. "I focused on a paper [by NHM Research Associate ChrisShaw] looking at skeletal trauma in La Brea Tar Pits fossils and how that led us to understanding hunting behaviors of those extinct animals a little bit more." Shaw's work may not be familiar to most guests, so Hatcher's tour helps reveal to visitors how researchers are using the collections in innovative ways to make new discoveries.
Science in the Garden
GI Shayna Foreman has a background in biology and makes sure to check in with the local wildlife buzzing around the Pollinator Garden in NHM's Nature Gardens. Foreman's tour covers everything from life on Mars to dinosaurs, but she makes a point to make it personal. She'll share with guests all the accessible, important research going on in the world of community science and tell them about the iNaturalist app, where they can explore and share observations about the natural world. "Visitors may not expect to come to a natural history museum and leave feeling empowered to contribute to science and make positive changes in their communities, our global community," she says, n"but they do!"