Sir Lady Java
History and Legacy of a Trans Rights Hero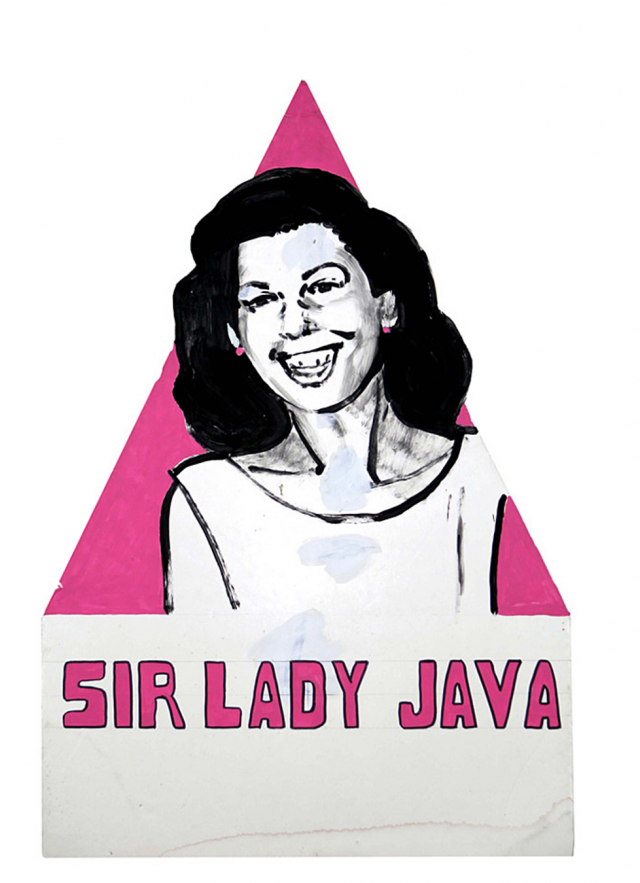 On display until June 27, 2021, in the Natural History Museum of Los Angeles County's temporary exhibition, Rise Up L.A., is a seemingly unpresuming pink, black, and white poster with a depiction of a woman's smiling face, framed by a pink triangle, with the words "Sir Lady Java" written underneath.
If you are unfamiliar with this person or this name, you might quickly glance at or walk by this poster, unaware of its significance. However, focusing on this hand-painted image, you'll start to understand its importance as a portrait of the person it represents and realize their image is symbolic of a lifetime of accomplishments. The story of Sir Lady Java as an individual—her life story—goes far beyond the walls of this Museum exhibition and is firmly rooted in a history of trans rights activism. Sir Lady Java's name holds significance in the hearts of many and carries powerful, historical weight in the LGBTQ+ community.
Born in New Orleans, Louisiana, in 1943, Sir Lady Java is a transgender entertainer and activist of color. From a young age, she idolized glamorous women in entertainment like Lena Horne, Mae West, and Josephine Baker; although, Java has said her own supportive mother was her biggest inspiration. After graduating from high school, she went into hat-making and fashion design, which was an important step, as it gave her the foundation needed to make her own glamorous costumes. To help boost her income, she also worked in the nightclub scene in New Orleans—Java's mother is said to have waited up for her every night to make sure she got home safely.  
In the mid-1960s, Java moved to Los Angeles, where she began waiting tables at the Redd Foxx Club on La Cienega Blvd, owned by stand-up comedian and actor Redd Foxx.  Another nightclub owner Gertrude Gipson was the first to notice Java and invited her up onto the stage.  Thereafter, Sir Lady Java began pursuing a career as a performer in the L.A. club scene, where she was the first transgender woman of color to perform. Her act ranged from impersonations, to singing, to exotic and shake dancing—which was a form of jazz dance characterized by shaking the body from the shoulders down. Some of her more famous patrons and co-performers included James Brown, Richard Pryor, Don Rickles, Lena Horne, Rudy Ray Moore (better known as Dolemite), and Sammy Davis Jr. Java quickly became a staple of Los Angeles nightlife.
Java's dancing, singing, and comedy performances drew diverse crowds and left audiences mesmerized. It's said that she could silence a band by simply entering the room— she was just as glamorous as the women she had looked up to from an early age. An essential piece of her glamorous image were her performance costumes. Java easily applied her fashion experience from Louisiana to her work as a performer and made all the costumes for her shows, many of which were inspired by Josephine Baker. Using materials like feathers and fishing lines, Java ensured her costumes shined as brightly as her onstage performances.
Her name, "Sir Lady" and "Java," can be broken down to understand her identity as an entertainer. First, the addition of "Sir Lady" to her name signified her as a "female impersonator" performer. By definition, the term female impersonator meant "a male performer who dresses as and impersonates women." The term generally referred to theatrical on-stage performance and originated historically from when women were not allowed to perform on stage; therefore, all characters were played by men.  Second, there is the name Java, which came from an unlikely source. The story goes that as Sir Lady Java was walking down the street, a man randomly called out to her, saying she looked like java, "deep, dark, and delicious." She thought to herself, "Java…" and decided to keep the name.
It is important to note that the term "female impersonator" does not describe gender identity but rather denotes a form of performance, theater, and work.  Adding "Sir Lady" to her name told people that Java worked as a female impersonator—it was a stage name. Additionally, female impersonator was never a term that served as a substitute for transgender woman. The term "female impersonator" has evolved, as language does, into "drag queen/performer." It is also worth noting that drag performers may or may not identify as transgender. Transgender folx are trans whether they are on or off stage—it is a lived experience—while a person's onstage drag persona is a performance involving a character and may not correspond with their everyday identity.
When Sir Lady Java put "Sir Lady" and "Java" together, she chose a stage name that represented her intersectional identity as a vibrant trans woman of color who worked as a female impersonator. Sir Lady Java is a woman of trans experience, and since today she no longer works as a performer, she is also sometimes referred to as Lady Java or, simply, as Java.
While there were trans folx before the late 60s/early 70s, the term transgender had yet to be introduced. During this time, people of trans experience used the same terms as the medical community to describe themselves since terms that more equitably described and accurately reflected their gender identity had not yet been popularized. Because of this, people who identified as trans sometimes chose to use the pre-existing labels accepted by society to access spaces where they would otherwise be unaccepted—which is a theme for the larger LGBTQ+ community. By calling themselves "impersonators,'' trans people were able to construct public identities in a way that was more acceptable to society because they were being viewed through the lens of performance. Sir Lady Java's successful career and fame during the 60s, 70s and 80s is an example of this.
Sadly, only a few years into Sir Lady Java's career, police began attempting to shut down her shows specifically because she was an "impersonator." In one of their first attempts, the Los Angeles Police Department (LAPD) sent around 50 officers to arrest her under the "three-piece rule." This rule stated that a person must be wearing at least three articles of clothing that corresponded to the sex they were assigned at birth, or they would be arrested for cross-dressing. Java thought quickly and pointed out her socks, wristwatch, and bow tie—which had all been deemed "male articles" by the LAPD—and avoided arrest. 
As her performances became increasingly popular, Sir Lady Java continued to catch the attention of city officials and, unfortunately, became a target of the city's newest piece of discriminatory legislation. In 1967, citing a newly passed city ordinance that became known as "Rule 9," the LAPD again attempted to shut down Sir Lady Java's performances. Essentially, the goal of Rule 9 was to outlaw shows in which the performer was "impersonating" the opposite sex. The ordinance stated that "No entertainment shall be conducted in which any performer impersonates by means of costume or dress a person of the opposite sex" and that impersonators were only allowed if they had a "special permit issued by the LA Board of Police Commissioners." Rule 9 was not the first ordinance of this kind. It was preceded by the Anti-Masquerading Ordinance of 1898 and other anti-crossdressing laws passed at the end of the 19th century. Like previous laws, Rule 9 was used to reinforce the gender binary and justify the criminalization and persecution of queer and trans people. Regrettably, the enforcement of the Rule 9 ordinance succeeded in shutting down Sir Lady Java's performances. 
Java was targeted because she was successful, and the idea was that shutting down the show of a top performer would cause all other impersonator performances to stop. By targeting trans and drag performers through the guise of "impersonator" performance, police also targeted establishments that were considered safe spaces for gay people. Clubs that had previously been packed for Java's performances were now being threatened with fines for simply hosting her. Redd Foxx himself was told he would be arrested and lose his license if he allowed Java to perform at his club. Because of these constant threats, Java's act was dropped from places where she was previously accepted and applauded. These actions not only violated Sir Lady Java's human and constitutional rights but was also an attack on the larger LGBTQ+ community in Los Angeles.
During this time, police harassment of the LGBTQ+ community was incessant (Black Cat Demonstrations). Because of this climate, department officials were not anticipating anyone to challenge the harassment being suffered under Rule 9. However, Java knew that one of the challenges for her people, trans people, is their ability to work. So, she decided to rise up, fight back, and use her own predicament as a way to ensure the right to work for all trans people. She joined forces with the American Civil Liberties Union (ACLU), and together, they argued that Rule 9 was unconstitutional because it took away Java's income and ability to work. In fighting for her right to work, Java also fought for the entire trans community's right to work. Sir Lady Java opened the door for all the trans and drag performers that came after her, and she fought to keep it open by challenging Rule 9. 
Unfortunately, this legal challenge could not proceed due to a technicality that stated that because she was a performer rather than a club owner, she had no legal standing to file a lawsuit against the ordinance. A club owner could have filed a claim, but whether out of self-preservation or fear for their own livelihoods, no one came forward to stand with Java. Nevertheless, she continued to fight against police harassment and for the removal of Rule 9. She brought the LGBTQ+ community together by organizing public rallies, pickets, and protests against the Los Angeles Police Commission to overturn the unfair law. These events received press coverage from Jet Magazine and the L.A. Advocate, which later became known as The Advocate. While it took a subsequent lawsuit to officially strike down the Rule 9 ordinance in 1969, Java's activism was pivotal to the fight towards transgender equality. It could be said that she was one of the founders of the trans rights movement.
The name Sir Lady Java carries a weight that has been felt for decades by the generations of LGBTQ+ individuals, BIPOC members of the LGBTQ+ community, and the LGBTQ+ community as a whole here in Los Angeles and beyond. The fight for equality is just as important today as in the 1960s, especially as we see more and more anti-trans legislation being passed across the county. Sir Lady Java fought for acceptance, inclusion, and equality; she fought against discrimination; she fought for the right for all trans people to work, do their jobs, and live their lives free from persecution, which is something we all deserve.
Sir Lady Java continues to be an influential figure for generations of LGBTQ+ activism and representation. Currently, there is a biopic in the works to tell Sir Lady Java's story by exploring her career and legacy. As is fitting to celebrate the trans rights hero, the biopic will feature Hailie Sahar, a trans actress of color from the breakthrough series Pose, as Sir Lady Java and will be directed by Anthony Hemingway, a black and openly gay Emmy award-winning director. It's no secret that Hollywood has long struggled to cast trans actors and actresses as trans characters. However, shows such as Pose and RuPaul's Drag Race show us how a flawless LGBTQ+ cast and crew can dramatically increase the visibility and representation of BIPOC members of the LGBTQ+ community through incredible performances. Java's story deserves the same authenticity featured in these shows and could not be appropriately told without casting a trans actress of color to play her character. While Sir Lady Java's story and activism have remained largely unknown, this upcoming mainstream media project will hopefully gain her the recognition she has always deserved. Thankfully, Sir Lady Java herself plans to be heavily involved in the upcoming biopic project, and in a way, it can be seen as Java's way of passing the torch to Hailie and the next generation fighting for trans representation and equality.
As an LGBTQ icon with a rich history of activism, it becomes increasingly easy to understand how Sir Lady Java's poster landed in the Rise Up L.A. exhibition, as the poster itself embodies LGBTQ+ history. Everything about this poster is gay— it is on loan from ONE Gay and Lesbian Archives, which houses the most extensive collection of LGBTQ+ material in the world. The poster was carried by members of the organization Act Up, founded in 1987 to bring attention to the AIDS epidemic that disproportionately affects the LGBTQ+ community. And, the poster was made for the 1989 Long Beach Pride Parade—a yearly celebration of gay culture that brings awareness and empowerment while challenging homophobia and transphobia. Furthermore, the poster was one in a series that celebrated local women who embodied Act Up's mission to improve the lives of people with AIDS, a mission which Java's life embodies as she has fought and continues to fight to improve the lives of people in the LGBTQ+ community.
It is refreshing and empowering to see this poster, featuring a trans woman of color, inside the Rise Up L.A. exhibition, where it allows Sir Lady Java to continue inspiring us all to rise up and fight against inequality, just as she has. Sir Lady Java is an icon on many levels.  Ultimately, her career and accomplishments exemplify the idea of women standing up for themselves against forces that would rather see them back down. 
The Sir Lady Java poster is on loan from the ONE Gay and Lesbian Archives will be on view through June 27th. This poster is one of a larger collection that can be viewed here.
A Note From Author, Caroline Thrasher, Museum Educator
Sir Lady Java's triumph over Rule 9 in 1969 is an essential piece of LGBTQ+ history. The removal of Rule 9 occurred during the same year as the Stonewall riots, and yet, Sir Lady Java continues to be erased from this important moment in time. This PRIDE month, while the poster featuring Sir Lady Java is on display at NHMLA, I wanted to honor her story with this written account of her career and legacy. 
Rule 9 was neither the first nor the last discriminatory, anti-LGBTQ+ law passed in this country. These laws are founded on the biases of those in power and rarely account for the lived experiences of the people they impact. When Sir Lady Java took action, she set an important precedent for us all to remember; if you want to see change, you have to rise up. If society has ever tried to define you with language that didn't truly reflect who you are, if society has ever tried to limit you based on your appearance, if you've ever felt limited by other people's perspectives of who you should be, how you should act, what you should wear, or who you should love, if you've ever had to stand up for yourself when no one else would, let Sir Lady Java's story be a reminder to you that one person standing up for themselves can change the lives of many. Standing up for yourself today could drastically help others tomorrow.
If you're struggling to feel accepted, let Sir Lady Java's story remind you that you are not alone. May her story inspire you to find your own voice and speak up for yourself. This PRIDE month, and every month going forward, let us all be more like Sir Lady Java.
---
Samantha Eastepp and Milena Acosta contributed to this article.