Homeschool Day: Fossil Discoveries
Add to calendar
2020-02-06 09:30:00
2020-02-06 16:00:00
Event - NHM Homeschool Day - Fossil Discoveries (2.6.20)
Natural History Museum
nhm
infoweb@nhm.org
America/Los_Angeles
public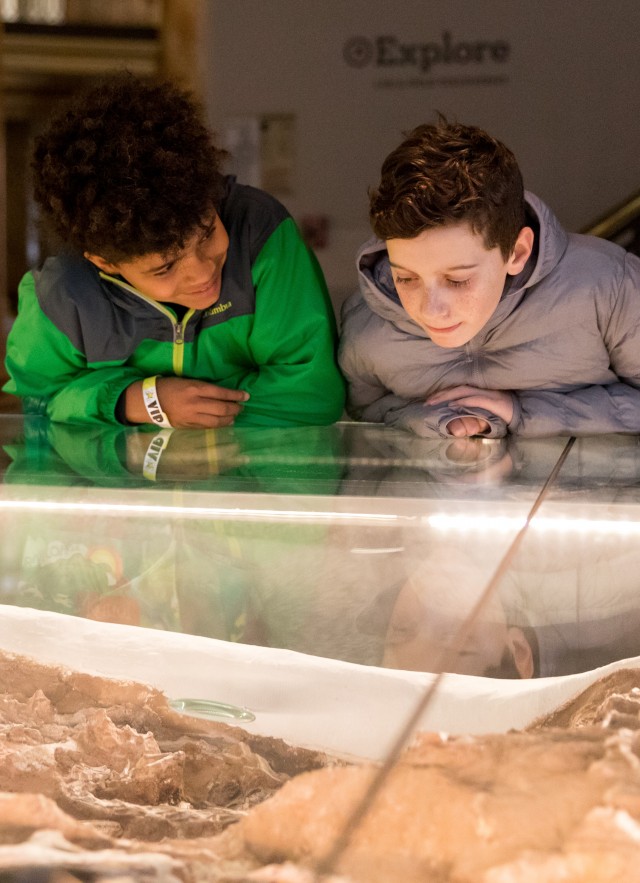 The fossil record tells us about environments and events from long ago, and helps us make decisions about the future. At the Natural History Museum, our Dinosaur Institute houses fossils that have been acquired over nearly a century—and our paleontologists are still making new discoveries every day!
This Homeschool Day, learn what NHM paleontologists uncovered during recent exciting excavations, run into dinosaurs at our Dinosaur Encounters show, and talk with museum educators about our extensive fossil collections in drop-in programs all around the museum.
As always, these special days are free for Homeschoolers. No advanced registration is required. Sensory friendly programs and resources will be offered at this event. 
To learn more about Homeschool Days at the Natural History Museum, visit NHM.org/homeschool.
Sensory Friendly Resources
Prepare for your adventure at the museum with these downloadable pre-visit materials:
Sensory kits will be available for checkout (while supplies last) with our Guest Relations Associates at the South Ticketing Booths.
One of our Dinosaur Encounters shows will be designated as a sensory friendly performance:

Our sensory friendly Dinosaur Encounters performances provide a warm welcome to guests who need a little less stimulating environment and the opportunity to move around during the show. 

Everyone is welcome to attend these performances with the understanding that the theater is "shush-free" and there may be a certain amount of sound and movement in the audience. 

House light levels will remain brighter and sound levels are turned down. 

You are welcome to come and go as you wish throughout the performance. There will be a relaxation zone in the back of the hall and a "Cool Down" area if you need a break.

View our Dinosaur Encounters Social Narrative before your visit to learn more about what you will experience.
Special thanks to Bose and the California Mental Health Services Authority for supporting sensory friendly initiatives at the Natural History Museum.
Related Exhibitions