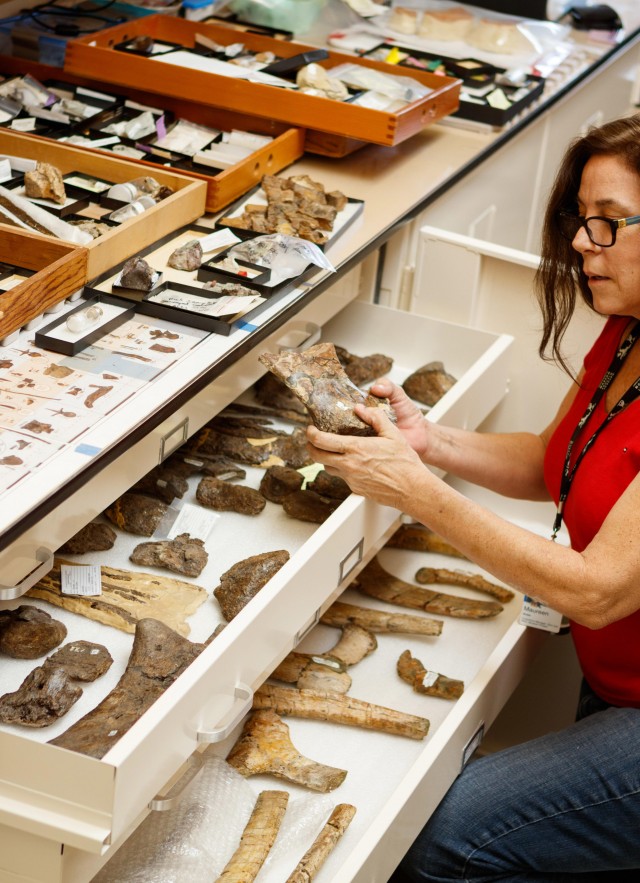 The Dinosaur Institute (DI) houses the museum's collection of Mesozoic tetrapods (four-limbed vertebrates), dating from 250 million years ago to 65.5 million years ago. This collection includes fossils of dinosaurs spanning the Mesozoic Era, as well as fossils of other tetrapods  that lived alongside the dinosaurs, such as flying and marine reptiles, crocodiles, turtles, amphibians, and early mammals.
The fossils in our collection have been acquired over nearly a century, and the collection continues to expand rapidly through the Dinosaur Institute's very active field program. The DI runs expeditions several times a year to collect fossils from Arizona, New Mexico, Nevada and Utah. We also participate in international field programs, most recently in China, South Africa and Argentina.
OUR RESEARCH
Early Evolution of Dinosaurs - Antarctica, Climate Change
Middle and Late Triassic Marine Reptiles; Ichthyosaurs from Nevada
Early Jurassic Dinosaur Trackways of California, Aztec Sandstone
Late Jurassic Morrison Formation Tetrapods - Micro and Macro Environments of Fruita, CO and the Gnatalie Quarry, Utah.
T. rex Growth Series, and other Holotypes from Hell Creek Formation, Montana 
Late Cretaceous Marine Reptiles from California
Kansas Seaway, Late Cretaceous Marion C. Bonner Collection - Platecarpus timpanicus
Mid 20th Century California and Early Paleontological Expeditions of CIT
NHM Early Expeditions 1960's - 70's
RESOURCEs
Our Staff
The DI staff provides mentorship in paleontology for a diverse group of people, from volunteers and docents to undergraduate students and postdoctoral fellows. A wide range of research is conducted here at the museum by both staff and visiting researchers, from examining different aspects of the evolution of dinosaurs and other Mesozoic animals to investigations into their diversity, genealogical relationships, ecology, and life history.
Scientific Illustrator, Dinosaur Institute
As illustrator and photographer for the Dinosaur Institute, Stephanie Abramowicz merges scientific research with artistic sensibility.
Senior VP, Research & Collections and Gretchen Augustyn Director, Dinosaur Institute
Senior Paleontological Preparator, Dinosaur Institute
Robert Cripps began as a volunteer for the Dinosaur Institute and was quickly hired as a paleontological preparator.
Senior Paleontological Preparator, Dinosaur Institute
Erika's interest in fossils, especially dinosaurs, came from her experiences as a volunteer and research intern with the Dinosaur Institute at NHM.
Senior Paleontological Preparator, Dinosaur Institute
With over 15 years of experience, Doug has organized crews and equipment for national and international field expeditions in an effort to help build NHM's dinosaur collection.
Postdoctoral Research Scientist, Dinosaur Institute
Keegan is studying how dinosaur teeth have changed through time, especially in response to the appearance and diversification of flowering plants.
Associate Curator, Dinosaur Institute
As an Associate Curator in the Dinosaur Institute, Dr. Nathan Smith supervises the Dinosaur Institute staff and conducts paleontological research in support of the Institute's programs.
Senior Paleontological Preparator, Dinosaur Institute
Karl Urhausen has a background in painting, sculpture and antiquities conservation, with an emphasis on the preservation of leather and wood. 

Collections Manager, Dinosaur Institute
As Collections Manager, Maureen Walsh is able to draw from over 14 years of professional experience in museum curation, environmental mitigation and fossil preparation to evaluate and maintain the Mesozoic collection at NHM.
Graduate Student, Dinosaur Institute
Hank Woolley is a Graduate Student-in-Residence in the Dinosaur Institute, conducting paleontological research in support of the institute's programs in addition to fulfilling his doctorate degree at the University of Southern California.