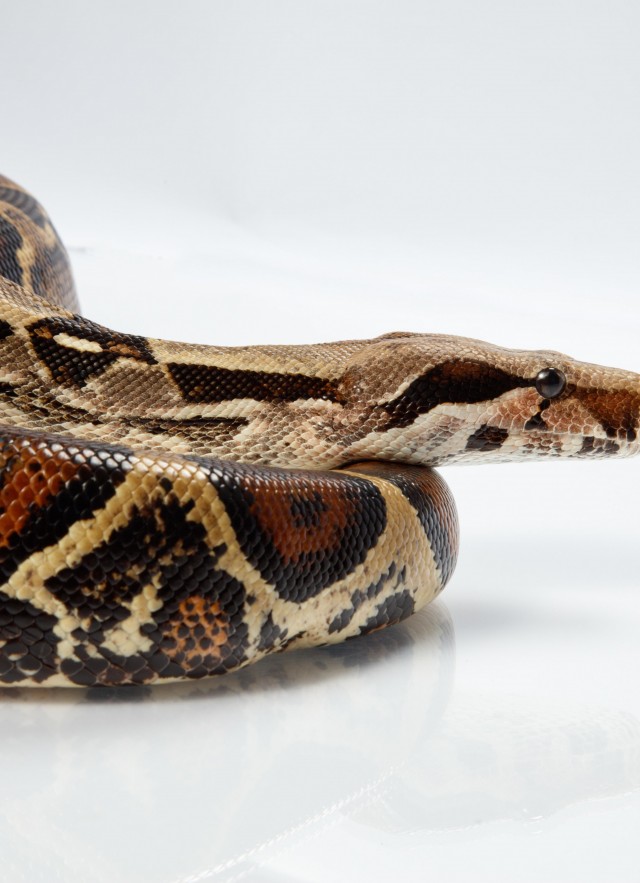 NHMLAC's collection of amphibians and reptiles contains approximately 190,000 catalogued specimens from around the globe. This includes approximately 3,600 skeletal preparations and 545 cleared and stained specimens. Other special collections include a growing frozen tissue collection, digital and slide photographs, histology slides, and gut contents from a number of species. The associated section library includes a large collection of herpetological reprints.
The collection is especially strong in its holdings from the southwestern U.S., Mexico, Honduras, Colombia, Costa Rica, the Galapagos Islands, eastern and southern Africa, and Australia. The collection contains material formerly in the collections of the University of Southern California, University of California at Los Angeles, University of California at Irvine, California State University, Long Beach, and California State University, Fullerton.  An especially important contribution is the Costa Rican Expedition (CRE) Reptile and Amphibian Collection, which includes more than 20,000 specimens collected from a variety of localities in Costa Rica throughout the 1960s, '70s, and '80s by Dr. Jay Savage and colleagues.
The collection continues to grow in line with the research interests of the Section staff and Research Associates as well as with incorporation of donated material.  If you are interested in donating material, please see our specimen donation information on the FAQs below. 
Requesting a Loan
Loans of tissues or preserved specimens are made to qualified researchers engaged in scientific investigations. 
All requests for specimen loans must be in writing on institutional letterhead (e-mail attachments will suffice; informal or preliminary inquiries are also welcome via email to the Collections Manager or Curator).  Loan requests from students must be co-signed by a permanent faculty member.  The letter must include the following:
Detailed information about the research project and use of the specimens;
Goal of the project and scientific value;
Qualifications of the investigator(s);
Specific specimens requested by LACM catalog number;
Condition of the specimen (both in terms of preparation and age or developmental stage needed);
Approximate duration of the loan;
Information on resources available for the appropriate storage and care of loaned material; and,
A statement that specimen use will abide by the loan policy detailed below.
This information as well as (1) rarity of the species and representation in collections, (2) loan history of researcher, and (3) condition of specimen(s) will be reviewed by the Curator and Collections Manager when considering loan approval. Loan requests will be processed as promptly as possible and on a first-come, first-served basis.  Loans often take one to two weeks to be filled, with international loans taking longer to allow for gaining the necessary airport clearance. NHMLAC has a moratorium on shipping loans between Thanksgiving and the New Year.
Loan Policy
The loan policy of the Section of Herpetology is based on the Section's two primary functions: (1) to serve as a repository for voucher specimens generated by present researchers, and (2) to serve as a research resource for the accumulated natural history collections and associated library material for both present researchers and those of future generations.
Loan of material will only be made to institutions and organizations, not to individuals, and only to those institutions with facilities to appropriately house and care for the material.  Specimen(s) requested by students or associates require faculty or institutional endorsement, and, for the duration of the loan, will be considered the direct responsibility of that institution and its representative.  Any inquires about the return of the loan will be made to the faculty member or institutional representative. Loans are typically made for a period of 12 months and subject to renewal.
No dissection (including for sex determination), destructive analysis, molecular or isotopic sampling, alteration, cleaning, or making of casts or molds of loan material without specific advance approval by the Herpetology Section.  If the removal of specimen parts (e.g., reproductive organs or stomach contents) is allowed, those parts must be returned with the specimens in enclosed containers labeled with the LACM catalog number.  Similarly, slide preparations must be returned with appropriate labels.
Loans may not be transferred.  If the borrower wishes to take material with him/her to another institution or organization, the original loan must first be closed.  Another loan will then be opened under the name and address of the new institution.
The Herpetology Section must be notified at all times of location and storage for all materials on loan to the borrower.  Any storage off-premises must be approved by the Herpetology Section.  Upon request, the borrower must be able to provide access to NHMLAC's material.
Loans of type specimens will be made only under special circumstances and at the discretion of the Section and museum staff.  Requests for examination of type material must clearly state the need for examination of types.
Any labels associated with museum specimens may not be removed or altered by the borrower without specific advance approval of the Herpetology Section.
The loan material must not be photographed or otherwise reproduced in any medium without the advance permission of the Section.
The borrower agrees to conserve and protect the material entrusted to his/her care, to pay any costs and/or loss in value arising from loss or damage to the loaned material caused by the borrower, and to exercise extraordinary caution in the care and preservation of loaned material.  The Herpetology section must be notified immediately if damage, loss, theft or other change to the condition of the material is discovered followed by a full written report.
Typically, no more than one half of the museum's total specimens for a species are loaned at a time.  A single request can be made for more than one half of the specimen holdings, but the second lot will only be shipped after the first half is returned.
All taxonomic changes, including designation of types and misidentifications, must be reported to the Collection Manager and Curator.  Similarly, researchers should alert Section staff to any questionable localities, including typographical errors in locality descriptions.
Specimens being returned to the Section must be packed in a manner similar to that in which they were received.  The borrower will pay all return packing and shipping costs.
The Natural History Museum of Los Angeles County (LACM is the approved abbreviation for referencing this museum's specimens) should be acknowledged in each publication related to the examination of its specimens.  The Herpetology Section must be supplied with 2 hard copies (and/or an electronic copy) of any papers and 1–2 copies of any books that result from the use of its specimen(s).
Search our Collections
Our collection is on VertNet, iDigBio, and GBIF.  Use institution code "LACM" and collection code "Herps".
Community science observations through the RASCals project can be viewed and searched on iNaturalist.
RESOURCES
Californiaherps.com online field guide
Frequently Asked Questions