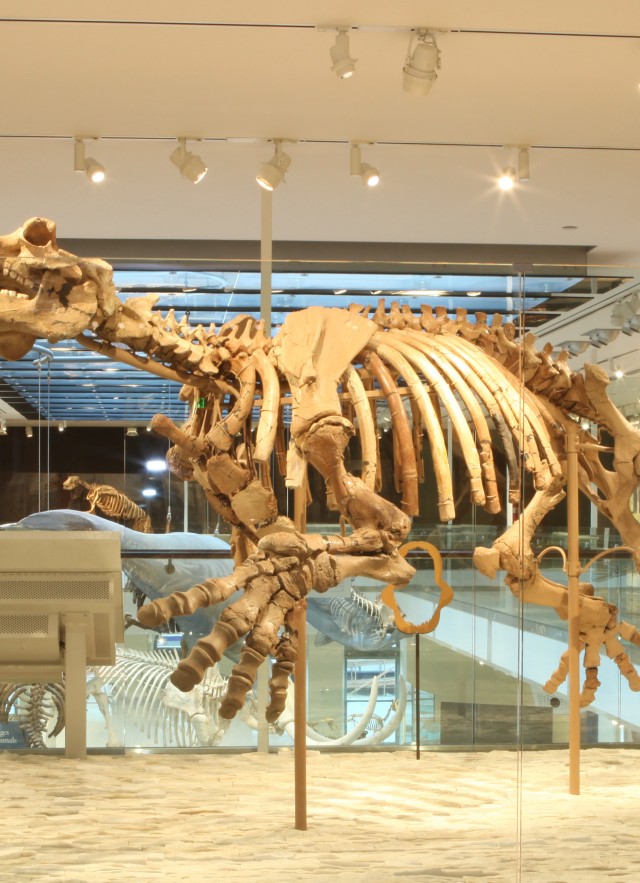 Vertebrate Paleontology is the study of ancient animals that have a vertebral column including fish, amphibians, reptiles, birds, and mammals. Vertebrate paleontologists are best known for their work with fossils. Our department has grown from housing the fossils recovered from the asphalt seeps of Rancho La Brea during the early 20th century to include a wide diversity of specimens amassed over the years by means of both active excavations and generous donations. Our collection is the fifth largest in the nation and a research standard for universities and colleges in the Southern California region.
The Vertebrate Paleontology Department is responsible for many of the Natural History Museums of Los Angeles County's (NHMLAC) exhibits that feature fossils and ancient animal remains. Our department provides the backbone of the Age of Mammals exhibit, currently on display. However, our collection doesn't end there. Upstairs, our cabinets house over 150,000 fossil vertebrate specimens of all shapes and sizes including representatives of every major group of vertebrates from around the world and spanning in age from the Ordovician to the late Pleistocene. This extensive collection is an invaluable scientific resource and can be viewed, in part, online but also via special appointment for intensive research purposes.
RESEARCH
Having access to such a rich collection of resources, our department's research staff is able to simultaneously commit to several different areas of study. The various fields we are able to pursue provide us a deeper understanding of our specimens—and subsequently the history of vertebrate life on our planet—knowledge for us to share with you. As of now, our staff is focusing on:
Systematics of fossil marine mammals
Terrestrial carnivores
The Late Pleistocene
Utilizing the breadth of our collections, our associates from around the world pursue research topics of their own. These most recently include:
Fossil history of the Amazon Basin
Systematics of fossil sea birds and billfish
Paleogeology of the Pacific Northwest
The Cenozoic fossil vertebrates of Nevada
RESOURCES
Rancho La Brea The largest single collection of Ice Age vertebrate fossils in the world.
Society of Vertebrate Paleontology The Society of Vertebrate Paleontology is a world-wide organization of vertebrate paleontologists and all those interested in fossil vertebrates. Visit them at .
University of California Museum of Paleontology Covering the entire range of fossil organisms the University of California Museum of Paleontology provides a wide range of educational materials on the history of life on Earth.
Search our Collections
We have over 150,000 catalogued specimens of fossil vertebrates, ranging in size from the tiny teeth of fish, bats, shrews, and rodents, to large whales. Our collections are primarily from California, the southwestern portion of the United States, and the northwestern portion of Mexico. They include representatives of every class of fossil vertebrates, but fossil mammals from the Cenozoic (the last 65 million years) form the bulk of the collections. Because of the extensive exposures of marine rocks in Southern California, our collections also include large and diverse holdings of fishes, sharks, whales, pinnipeds, and other marine vertebrates.
Explore our collections by clicking on this Collections Search Form.
View 3D photogrammetry models of VP holotypes on Sketchfab.
Assistant Collections Manager, Vertebrate Paleontology
Juliet joined the VP team part-time in February 2018 to work on a 2-year funded grant project to curate and conserve Pleistocene vertebrate fossils from Gypsum Cave, Nevada.
Collections Manager, Vertebrate Paleontology
Sam leads Vertebrate Paleontology staff in maintaining, enhancing, and caring for NHM's significant vertebrate fossil collection.
Assistant Collections Manager, Vertebrate Paleontology
John Sifling has assisted the Vertebrate Paleontology department with field, lab, and collections work since 2015.
Associate Curator, Mammalogy
Jorge is a paleontologist and mammalogist who studies the evolution and diversification of marine mammals. As Curator of Marine Mammals, he works with NHM's mammalogy and vertebrate paleontology collections.
Curator, Vertebrate Paleontology
Xiaoming is a vertebrate paleontologist whose research is focused on the evolution of terrestrial mammals, especially carnivores.
Preparator, Vertebrate Paleontology
Alan Zdinak received his training in fossil preparation and archival specimen housing at the American Museum of Natural History in New York.