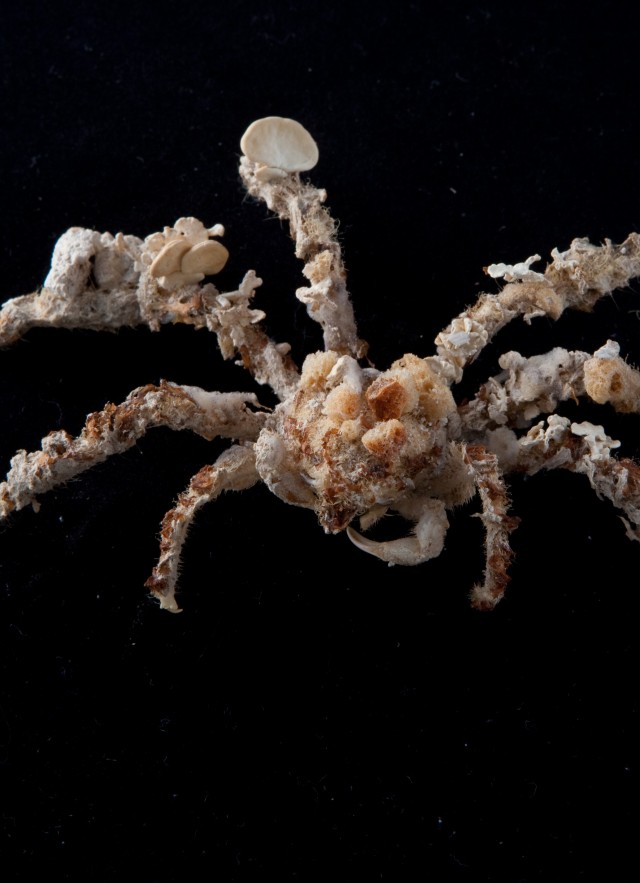 NHMLAC's collections of Crustacea are the second largest in the United States and the fourth largest in the world. We house an estimated 140,000 "lots" of crustaceans (a "lot" is a single container, which could be a small vial or a large jar, and each lot may contain one to several hundred, or even several thousand, individual specimens). We estimate that our Crustacea Collections currently contain four to five million individual specimens. Historically, the geographical emphasis and strength of this collection has been the Eastern Pacific, and the collection is the largest in the world for that region.
Our collections are also worldwide in scope with broad representation from the Indian, Pacific, and Antarctic oceans, as well as the Caribbean Sea. Included are marine, freshwater, and terrestrial species. Ongoing exchange programs with other natural history museums around the world help us build the depth and breadth of the collection. The Crustacea Department maintains these priceless collections, continues to add to them as part of our ongoing research programs, and conducts basic research that benefits the museum's educational and exhibit programs as well as the public.
RESEARCH
Research in the Crustacea lab focuses on the systematics, phylogeny, and evolutionary morphology of decapod crustaceans (crabs, shrimps, lobsters, and their relatives), and on their larval development and the use of larval morphology in reconstructing decapod relationships.  Other areas of research interest include the systematics and distribution of branchiopod crustaceans (fairy shrimp, tadpole shrimp, clam shrimp, and their relatives), peracarids (isopods, amphipods, and their relatives), coral reef biodiversity, and hydrothermal vent communities.   
The collection is available to researchers studying any aspect of Crustacea.
To request loans, please contact Adam Wall, Collections Manager, at awall@nhm.org.
RESOURCES
Tree of Life project on Decapod Crustacea, and its Decapod Literature Database
Crustacean Glossary
Collections Manager, Crustacea
Adam's research focuses on developing DNA barcoding and environmental DNA (eDNA) techniques with the goal of revolutionizing how marine biodiversity is studied, as well as studying crustacean systematics and isopod phylogeny. He is responsible for overseeing the curation, maintenance, loans, and visitors related to the world's fourth largest collection of Crustacea.
CONTACT
Collection Information and Access
Adam Wall, Collections Manager for Crustacea
awall@nhm.org.
213.763.3450
Research Questions
Joel W. Martin
jmartin@nhm.org
213.763.3440