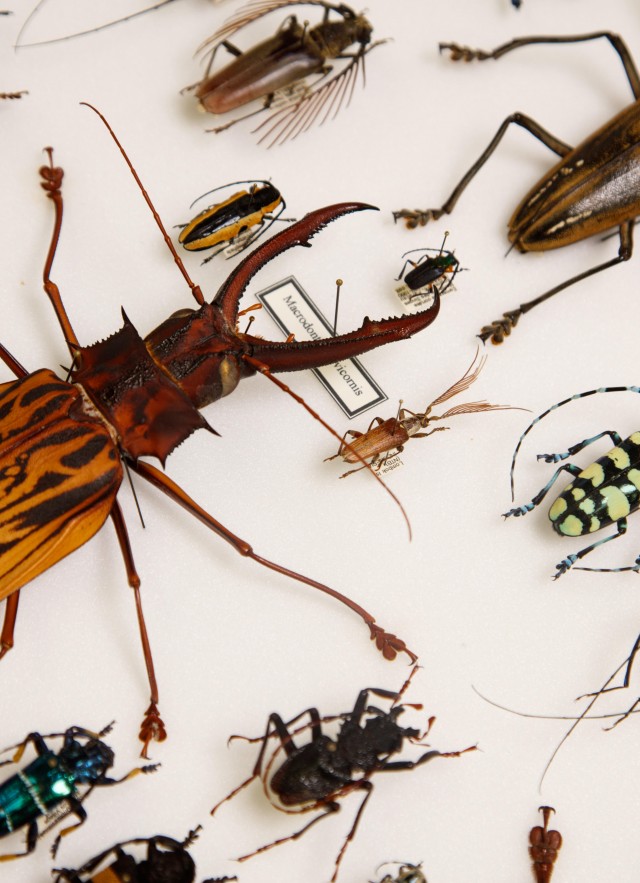 With over 800,000 described species—more than half of all known living organisms—insects are the most diverse group of animals on Earth. NHMLAC's entomology collection, one of the largest at the museums, has approximately 6 million specimens of insects, spiders, and other terrestrial arthropods. It is the largest in Southern California and has specimens from all over the world. The collection's strength lies in its holdings of specimens of ants, phorid flies, scarab beetles, and moths from North and Central America. We also have a large and growing collection of insects in amber, about 3,000 pieces. 
Entomology at the Natural History Museum goes back as far as 1913, when NHM  first opened. 
RESEARCH
Museum scientists conduct world-class research on systematics, studying species and their relationships, the evolution of major groups, and fossil insects in amber. They conduct field work on insect biodiversity at home and in tropical countries. 
Qualified researchers can request loans from the collection by contacting us at the address below.
RESOURCES
Urban Nature Research Center
flyobsession.net
phorid.net
dipteracourse.com
bugguide.net 
SEARCH our COLLECTIONS
Postdoctoral Fellow, Entomology & Urban Nature Research Center
Max joined the Urban Nature Research Center in 2018 after completing his Ph.D. at the University of Louisville, where he studied communities of ants living in the canopies of tropical forests.
Curator, Entomology and Co-director, Urban Nature Research Center
Dr. Brian V. Brown, head of the Natural History Museum's Entomology Department and Curator of Entomology, has pursued an interest in insects since he was 5, when he created an insect zoo in his backyard in Toronto, Canada.
Assistant Collections Manager, Entomology
Lisa, who joined the BioSCAN project in 2012 as an Assistant Collections Manager, received a B.S. in Entomology from UC Riverside.
Assistant Collections Manager, Entomology
Estella received her bachelor's degree from Whittier College in Biology. Her knowledge and experience pre-BioSCAN come mostly from the healthcare field.
Research Assistant, Entomology
As soon as Maria joined the BioSCAN Project in 2015, she started learning about the local phorid fauna of L.A. from entomologist Emily Hartop.
Collections Manager, Entomology
Mr. Weiping Xie is the Entomology Department's Collections Manager. He is responsible for care and maintenance of the entomology collection's pinned, alcohol-preserved, and slide-mounted specimens.