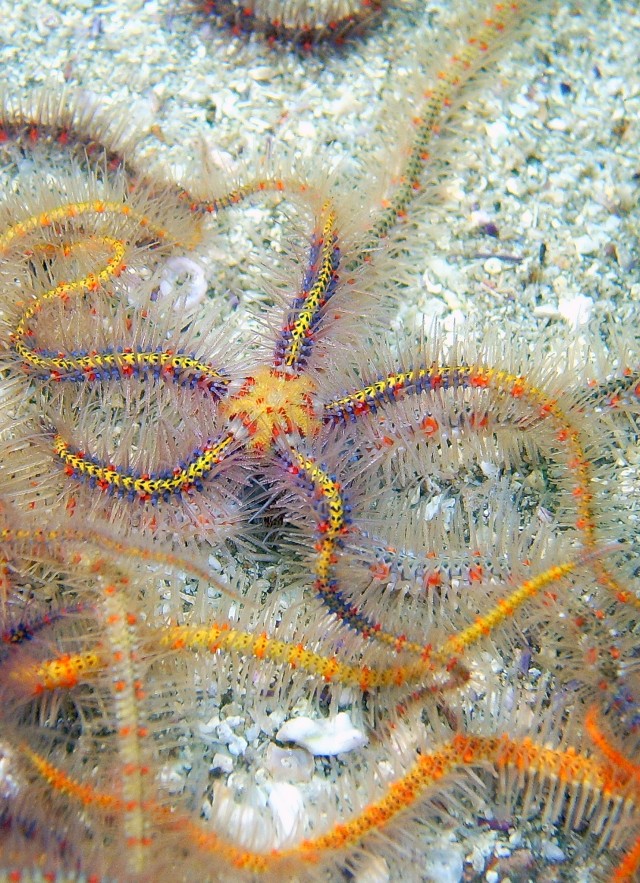 Echinoderms are sea stars, sea urchins, sea cucumbers, brittle stars, feather stars, and related animals.
For many millions of years, they have been among the most conspicuous and abundant oceanic organisms. People around the world have recognized their beauty and importance since ancient times.
NHM began to acquire specimens of echinoderms in the 1920s through its Department of Marine Zoology—the museum's first and only Curator of Marine Zoology, Dr. Howard R. Hill, acquired echinoderms for the institution during his tenure from 1922-1959. 
In 1985, the museum became an internationally recognized center of echinoderm studies with the appointment of the first Echinoderms Curator, and with the accrual of major collections that elevated the museum's holdings to the third largest in the United States.  The core of the echinoderm collection was transferred to NHM from the University of Southern California in 1985. These massive holdings were assembled, beginning in the 1930s, by Allan Hancock Foundation (AHF) oceanographic expeditions in the Eastern Pacific and Caribbean, and from major State and Federal ecological surveys of the California continental shelf. More recent acquisitions were accrued from surveys and scientific fieldwork in the Caribbean, Hawaii, and Indo-Pacific, and polar seas. 
RESEARCH
The collection supports research on all aspects of echinoderm biology and biodiversity, including systematics, taxonomy, biogeography, ecology, morphology, and biomechanics, as well as studies of the commercial importance of these animals.  Historically, our collection has been a rich source of information for taxonomists. Initially, 20th century luminaries of echinoderm biology, H.L. Clark and Elizabeth Deichmann (Harvard University) monographed the AHF echinoids (sea urchins and sand dollars) and holothuroids (sea cucumbers), respectively, and Fred C. Ziesenhenne (AHF curator) described many new species of ophiuroids. 
Echinoderms has regularly participated in our museums' tide-pooling field trips. Check our calendar to find information on upcoming offsite field trips.