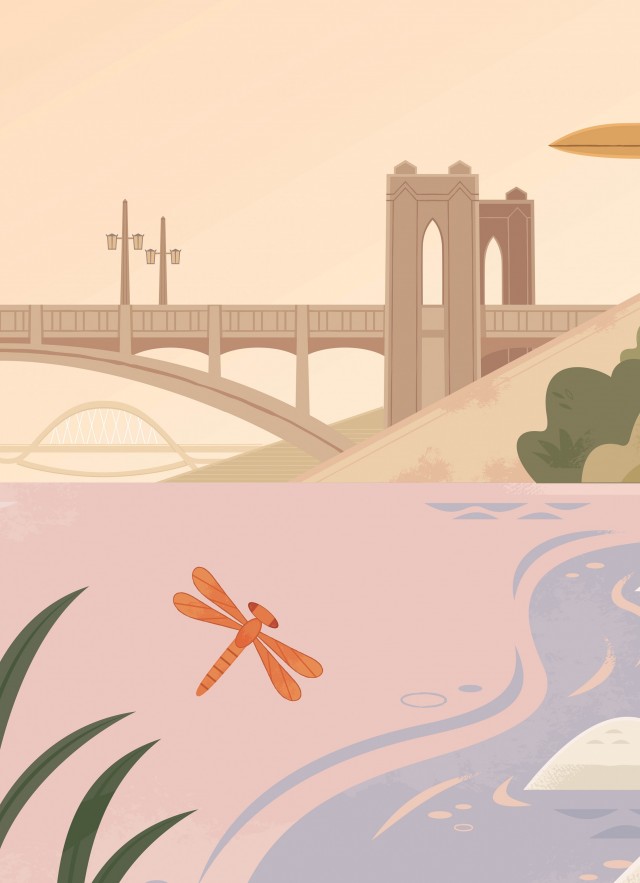 ​Celebrate the spirit of L.A. Nature Fest from home! 
There's a surprising amount of nature in Los Angeles, and the more you know how to look for it, the more you'll see. Although Nature Fest cannot take place at NHM, we still want to celebrate L.A. nature with you from the comfort of your home. Please enjoy these online, nature-related videos and activities that are great for the whole family.
Video
The Earth in Her Hands Panel
 
Hear the amazing stories of women working in the world of plants. (Moderated by Richard Hayden, featuring Carol Bornstein, Lauri Kranz, Mia Lehrer, and book author, Jennifer Jewell). Read about The Earth in Her Hands. 
 
Carol Bornstein is one of Southern California's most highly respected native plant specialists. Throughout her career, she has championed the landscape value of California's native plants and the benefits of designing gardens in harmony with nature. Learn more here or follow nhmla_naturegardens on Instagram.
 
Jennifer Jewell is the creator/host of Cultivating Place, an award-winning public radio program & podcast on natural history and the human impulse to garden. Her first book, The Earth In Her Hands, 75 Extraordinary Women Working in the World of Plants centers on women transforming horticulture around the world. Learn more here, listen to the podcast "Cultivating Place", follow cultivating_place on Instagram, and keep an eye out for the book Under Western Skies, due out February 2021.
Lauri Kranz is the owner and founder of Edible Gardens LA where she creates lush, edible landscapes and vegetable gardens for chefs, restaurants, museums, schools. Lauri and her gardens have been featured in magazines including, Martha Stewart Living, Marie Claire and has been featured on NBC's Today Show. Learn more here, follow ediblegardensla on Instagram, and read the book A Garden Can Be Anywhere.
Mia Lehrer, has led the design and implementation of ambitious public and private projects, including the Hollywood Park Racetrack redevelopment and its new LA NFL Stadium, the L.A. County Natural History Museum Gardens, Vista Hermosa Natural Park, and many Los Angeles River-related projects. Learn more here.
Richard Hayden (panel moderator) has rejoined NHM to project manage the new master plan design for La Brea Tar Pits Museum and surrounding landscape. He will be coordinating architects, museum staff, trustees, peer institutions and county and community stakeholders to reimagine this world-class institution and unique research site.
Making Nature Accessible: courage camps takes east la surfing

 
Giselle Carrillo, Vanessa Yeager and Cassie Comley, Ph.D. are Latina surfers challenging stereotypes around the sport while connecting more Angelenos to the beach. In this interview, they discuss the inspiration for Courage Camps, their personal journeys to surfing, and what it means to be a Latina in a sport seen to be dominated by white men. By opening up surfing to East Los Angeles, they're making a powerful statement that Nature is for everyone.
Guided Meditation with Ceramicist Lizbeth Navarro
Lizbeth Navarro is Mexican-Peruvian ceramics artist living in Los Angeles. She creates decorative and utilitarian one-of-a-kind objects inspired by nature and the philosophy that we are all connected; from the smallest grain of sand to the stars and constellations. Lizbeth enjoys observing nature as a teacher, and her pieces depict her favorite animals and landscapes. You can learn more about her art on her website and on Instagram @lizceramics
Nature Guides
 
If you go for a walk around your neighborhood while observing nature, please be sure to keep a safe, 6ft distance from others and follow all state and local guidelines regarding social distancing.
Bird Gardens
Learn what plants will attract birds to your garden with this helpful guide brought to you by our NHMLA Garden staff.   
Nature Photography with Las Fotos Project
Grab your phones and learn to capture the beauty of nature with these tips from Las Fotos Project. Follow Las Fotos Project's Scavenger Hunt and Photo Tips to create a visual story about the natural world around you. 
Photography Tips | Scavenger Hunt
 
NHMLAC Birding Guide
This brief guide for identifying backyard birds around Los Angeles is brought to you by NHM's avid birder and Ornithology Collection Manager, Kimball Garrett. With spring in the air, this guide is meant to highlight a few birds that you can spot around Los Angeles from your own backyard.
Birding Guide

Activities
 
DIY Bird Feeder | Comedero para Pájaros
Attract birds to your garden by building your own bird feeder. See activity
Atraiga pájaros a su jardín construyendo su propio comedero para pájaros. Ver actividad
 
Eggshell Herb Garden | Jardín de Hierbas en Cáscaras de Huevo
Turn empty eggshells into a mini indoor herb garden. See activity 
Convierte las cáscaras de huevo en un pequeño jardín de hierbas dentro de su casa. Ver actividad
 
Nature Loteria | Lotería de la Naturaleza
Try to find as many items in nature that are listed on the game board to win Loteria. See activity
Intenta encontrar la mayor cantidad de elementos en la naturaleza que figuran en el tablero de juego para ganar Lotería. Ver actividad
 
Nature Mandala | MANDALA DE LA NATURALEZA
Create a masterpiece using flowers and leaves you find on a nature walk. See activity
Crea una obra maestra con flores y hojas que encuentres en un paseo por la naturaleza. Ver actividad.
 
A big thanks to our sponsors